Contact for More Information
Apply Now !
Call 855.978.7767
OR Take the Online tour

>>
REVIEW : RUSSO'S AT TUSCANY ON YALE IN TULSA
October 3, 2013
By SCOTT CHERRY World Scene Writer - Tulsa World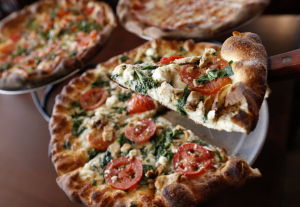 When brothers George, Richard and Anthony Martinez named their new company Main Street Boys LLC, the street they were referring to is in Yonkers, N.Y.

"Our mother is from Naples and our father was from Cuba," Richard Martinez said. "Our mom raised us as a single mom, and it wasn't easy for her. Us and our sister had humble beginnings. We came from nothing.

"The last time we brothers were really all together was on Main Street in Yonkers, and that's why we chose that name."

Under that umbrella the brothers recently opened Russo's Coal-Fired Italian Kitchen in the Tuscany on Yale shopping center. It's a chain outfit based in Houston.

"We would like to open maybe seven more in Oklahoma," Richard said.

George operates an oil and gas service company in Jenks, and Richard is involved in that business as well. Anthony, who has 20 years experience in the restaurant business, is the general manager at Russo's.

"We go to Houston a lot on business, and we thought Russo's would do well in Tulsa," George said.

From what we have seen, the restaurant is off to a rousing start. We had about a 30-minute wait when we visited recently with a teenage granddaughter, and that was for a patio table. It was a beautiful night, so that was fine.

We started with a 12-inch caprese pizza ($17.95) and an appetizer of spinach artichoke dip ($9.95).

The pizza held the traditional Italian trio of buffalo mozzarella cheese, fresh sweet basil and Roma tomatoes. The rounded edges of the pizza crusts come out of the coal-fired oven dark, almost burned looking, but ours had no burnt taste at all. It was delicious.

The appetizer seemed a bit pricey, but it turned out to be an extra-large boat of dip filled with fresh spinach, artichoke hearts and roasted garlic in an alfredo sauce and served with slices of focaccia bread.

Our entrees included lobster ravioli ($18.95), veal Gorgonzola ($17.95) and fettuccine alfredo ($11.95).

Again, the servings were generous. The ravioli dish included Maine lobster-stuffed pasta and Roma tomatoes cooked in a mascarpone tomato cream sauce. The dish delivered a seafood flavor nicely balanced by the sauce.

The veal was sauteed with portobello mushrooms in a Gorgonzola cheese cream sauce and served over angel hair pasta. The thin slices of veal were a little chewy, but the cheesy sauce mixed with the pasta had a pleasant flavor.

The fettuccine alfredo was a bargain. The platter held a mound of fettuccine pasta swirled in a light garlic cream sauce and sprinkled with aged Pecorino Romano cheese. Simple and tasty.

A large slice of red velvet cake ($5.95) that was moist and had a cream cheese-based frosting was plenty to share for dessert.

Russo's offers a wide variety of pizzas, pasta dishes, flatbreads, sandwiches, calzones, soups and salads on the lengthy menu.

The beverage list includes a selection of beers, including six on tap, and wine.

The coal-fired oven is open to the handsome dining room that is decorated with a retro New York City look - think photos of Sinatra and old Yankees Stadium - and music from the '30s, '40s and '50s plays in the background. It seats 90 inside and 24 outside.