Italian food is notoriously affordable and travels well for catering. Homemade with family-style dining in mind, it's the perfect shareable food item that's budget friendly. But what does shareable mean during a global pandemic? For Italians, sharing the table and conversation is what matters most, and this year at Russo's we achieve the family-style, shareable atmosphere with the safe delivery of individually packaged Italian meals. Let us deliver your homemade Italian meals for FREE, and get back to what matters most: warm conversations with loved ones.

For the majority of this year, many have been working from home, and to some, our work family has been equally missed. With our safe group meal options, your distant-office holiday function can be safely achieved, allowing long-awaited catching up with coworkers only lately seen on screen. Our holiday catering packages are homemade, made to order, and safely delivered for FREE for less than $8 per person! We provide the set up and clean up when you're done!
We offer cost-effective dining options
Don't overspend this year. Our budget-friendly Italian meals are going to be a big hit to your guests, not your wallet. Starting at $5 per person*, choose from a wide selection of traditional Italian pastas like baked ziti, spaghetti with meatballs, gnocchi, carbonara, and lasagna. Pair these with classic salads and antipastos like jumbo buffalo wings, Italian meatballs, cauliflower fritti, and garlic bread. Feel like really impressing? Check out our chef-special entrees like chicken parmesan, chicken marsala, or eggplant parmesan. Many of our menu items can be made with our gluten free and vegan guests in mind. Be sure to ask about these options when ordering!
Baked ziti- With ricotta, mozzarella & Romano cheeses, basil, and marinara sauce.
Spaghetti with meatballs- With Chianti-braised meat sauce or marinara sauce and fresh basil.
Gnocchi- Homemade potato pasta and fresh basil, served with Russo's Chianti-braised meat sauce or marinara sauce.
Pappardelle carbonara- Pappardelle pasta, pancetta, red onions, egg, Pecorino Romano cream sauce.
Russo's lasagna- Fresh pasta layered with braised beef, Italian cheeses, and Russo's Chianti-braised meat sauce.
Chicken parmesan- Tender chicken breast seasoned with Italian breadcrumbs, topped with Russo's homemade marinara sauce, Wisconsin mozzarella. Served with spaghetti pasta.
Chicken marsala- With portobello fettuccine, mushrooms, and Marsala wine & mushroom sauce.
Eggplant parmesan- Fresh eggplant parmesan layered with fresh basil, Wisconsin mozzarella cheese, Pecorino Romano cheese, Russo's homemade marinara sauce. Served with spaghetti pasta.
Other budget-friendly serving styles & suggestions
Buffet-style or 'bulk' orders are the more well-known budget friendly options when it comes to group or corporate catering. When the time is right, consider Russo's New York Pizzeria & Italian Kitchen for the next large group, buffet-style catering event. Until then, be sure to connect with our catering representatives to strategize safe meals for the holidays, birthdays, etc.
Another way to keep costs down is to not over-order. Be sure to confirm the estimated attendees and work with your Russo's catering representative to best determine the most cost-effective plan that will keep everybody fed without much waste. (Although, luckily Italian food makes for one of the easiest leftovers out there!)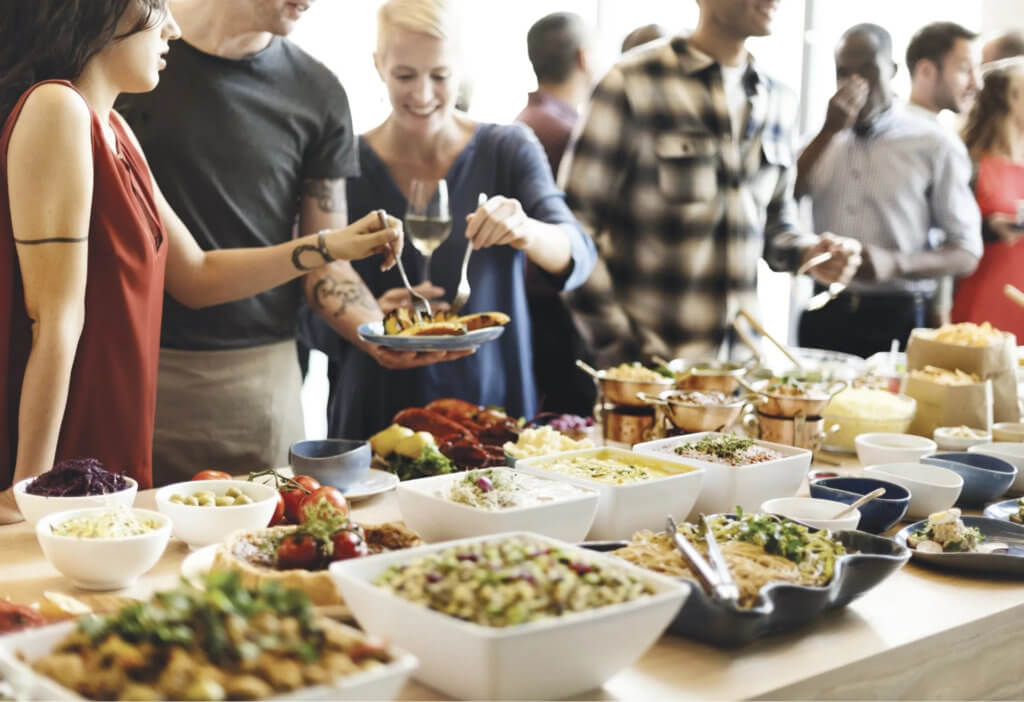 Make Russo's your go-to for Italian catering
Russo's has been doing this a long time and knows exactly how to impress during your business catering or home delivery set up. We work to make your event as stress-free as possible by tending to all facets of your event, from free delivery and set up to break down. Make Russo's your go-to this year. Our extensive Italian cuisine recipes have been passed down for generations, and been refined to make it the most cost-effective meals in town. We have locations all over Texas: the Houston, Austin, San Antonio, Dallas, and the Valley areas, as well as Tulsa and Florida: Clearwater and Pembroke Pines areas.
Visit nypizzeria.com/locations to contact one of our numerous locations for recommendations on how to safely serve your guests this year. And check out our catering options at nypizzeria.com/catering for more information.