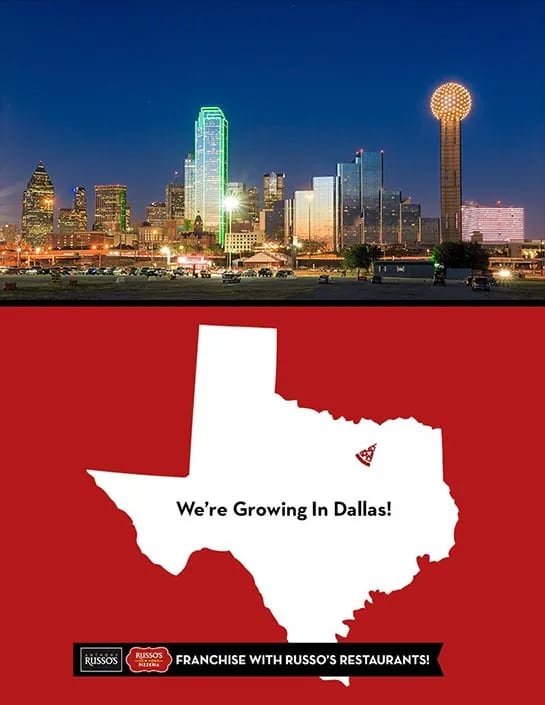 Opening a new restaurant can be a daunting task – coordinating labor, real estate, vendors and marketing is enough to have any ambitious individual looking into business ownership second-guessing his or her decision.
When you couple the sheer amount of work with the fact that many restaurants are unsuccessful in their first few years in business, it seems downright nonsensical to try and open a restaurant without any help. That's where Russo's comes in.
With Chef Anthony Russo's proven concepts such as Russo's New York Pizzeria or Russo's Coal-Fired Italian Kitchen, entrepreneurially minded individuals who dream of opening their own restaurant can see their dreams come to fruition without the fear of the doors closing unexpectedly. Russo's does the legwork for you – besides assisting with labor, real estate, vendor relations, marketing and public relations, Russo's also identifies prime markets nationwide for you to open your Russo's restaurant.
In fact, Russo's has identified the Dallas/Fort Worth area as healthy for small business growth – and they're not the only ones. Several small business job reports have placed the Dallas/Fort Worth area as the leader for the year of 2015 in small business growth, ranking well above larger metropolitan areas such as New York, San Francisco, Chicago and Los Angeles. The D/FW area has seen a growth rate of .25% for more than 12 months – the state of Texas as a whole ranks third nationwide as a best performing state for small business growth. Though the national index growth rates have varied, Dallas remains strong and positive, indicating that it is an ideal setting for a greater Russo's brand penetration.
Russo's New York Pizzeria and Russo's Coal-Fired Italian Kitchen provide opportunities for qualified entrepreneurs to develop community-oriented restaurants in new and upcoming, as well as existing, lifestyle centers, retail centers or standalone locations. Chef-driven Italian menu items complement the fast-casual and casual dining, family-friendly atmosphere in more than sixty locations open or under development, worldwide. Click here to learn more about available franchising opportunities with Chef Russo's brands.