Italian restaurants are the quintessential date night option for so many reasons. It's hard for anybody to turn down a savory meal in a warm and comfortable indoor dining ambiance. So, if you haven't been on a legitimate date with your spouse or loved one in a while, we invite you to have pizza for two at Russo's.
What Makes Pizza a Terrific Date Night Idea?
Pizzeria restaurants are fun, relaxed, and casual. Our locations are well-furnished with plenty of delightful amenities, but they also focus on keeping things comfortable. You can come "dressed to the nines" or show up in snappy casual attire just as well. Some of our restaurants even give you the chance to watch us prepare fresh pizza in large brick ovens.
The best pizzerias, like Russo's, have tons of menu variety. Make your next date night a chance to enjoy one of Chef Russo's novel creations:
Chicken Rustica Pizza
Sausage & Ricotta Pizza
Brooklyn Square Nonna's
New York Village
...and many others!
You can save the leftovers for later, too. That's because pizza actually tastes good even a day later. This is not always true of other restaurant food. When you wrap up some unfinished Doppio Pepperoni Pizza and take it home, you'll want to finish it later.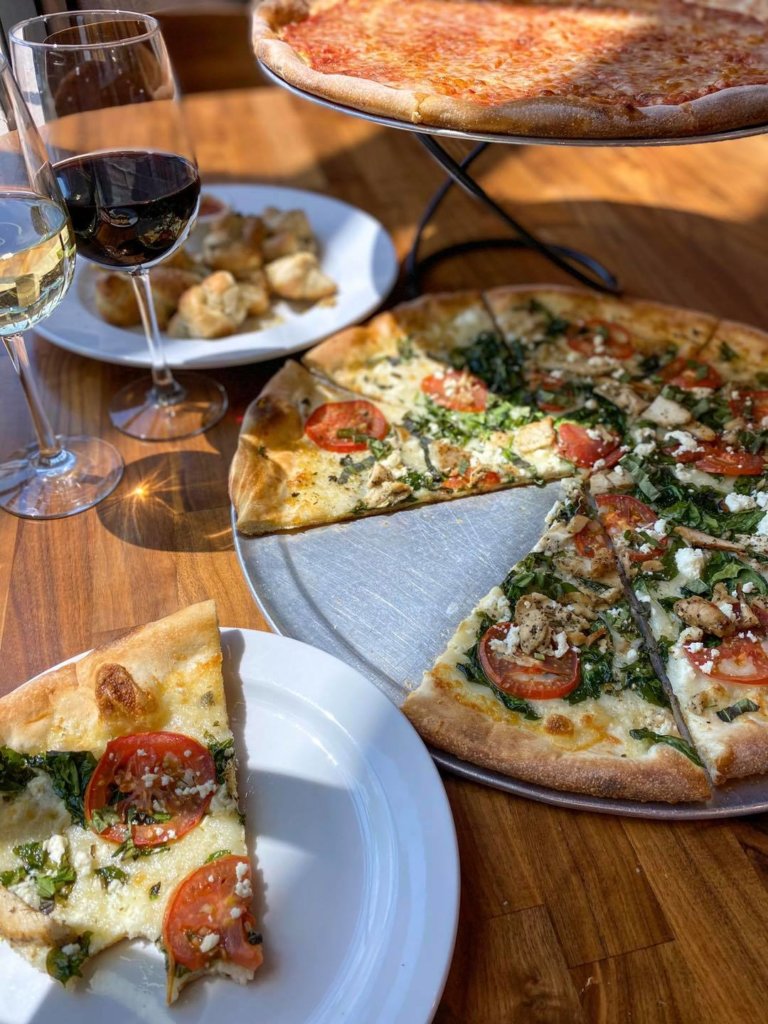 Ways Russo's Can Facilitate Your Date Night
Russo's New York Pizzeria is here to help you enjoy a relaxing evening with your significant other, and we offer several ways to do that. Even if you aren't in the mood for a large pizza, there are plenty of ways to cherish a good time together over soup, salad, numerous pasta selections, and more.
Then, if you prefer to stay home or enjoy pizza in another location, we can bring things to you with our delivery, catering, and takeout services. Some of the most cherishable dates could be with a couple of pizza slices during an outdoor picnic this spring. Our prompt takeout service makes that remarkably easy.
We know that planning a nice evening outing might be stressful, especially if you have additional plans afterward. That's why we like to assist to make things as easy as possible with these convenient services you can find at all our restaurants.
We can't wait to host you and your loved one for a memorable date night at Russo's New York Pizzeria. You can find us in several locations, around Texas and even internationally, serving the most authentic pizza and Italian cuisine. You're welcome to contact us anytime to learn more by calling 346-802-4700.