Since most adults and children love pizza, it is an ideal choice at mealtime for the family or when serving guests at a party. You can never seem to go wrong by offering others a pizza! Russo's New York Pizzeria provides 5 reasons why you should always order the biggest pizza.
Plenty of Slices
Since a larger pizza equals more slices, you can provide food for more people. This way, there will be less to carry, fewer boxes will take up less storage space on a table or counter, and you will not have as much cardboard to bring out to the curb for garbage/recyclable pick-up afterward.
A Better Deal
The cost of buying a large pizza is typically less expensive than the total price of buying several pizzas on the smaller side. Economically speaking, you will get a better deal since there is often a bit of a discount the bigger you go. Furthermore, the larger pizza will have more slices than the sum of two smaller pizzas together.
Enjoy Leftovers
Pizza leftovers make it easy to have dinner right at your fingertips, or if you happen to be in the mood for a late-night snack. Reheated pizza is often a desirable treat since eating this kind of leftover is no sacrifice at all. You can save money by bringing a few slices to work for lunch rather than spending a chunk of change at a restaurant.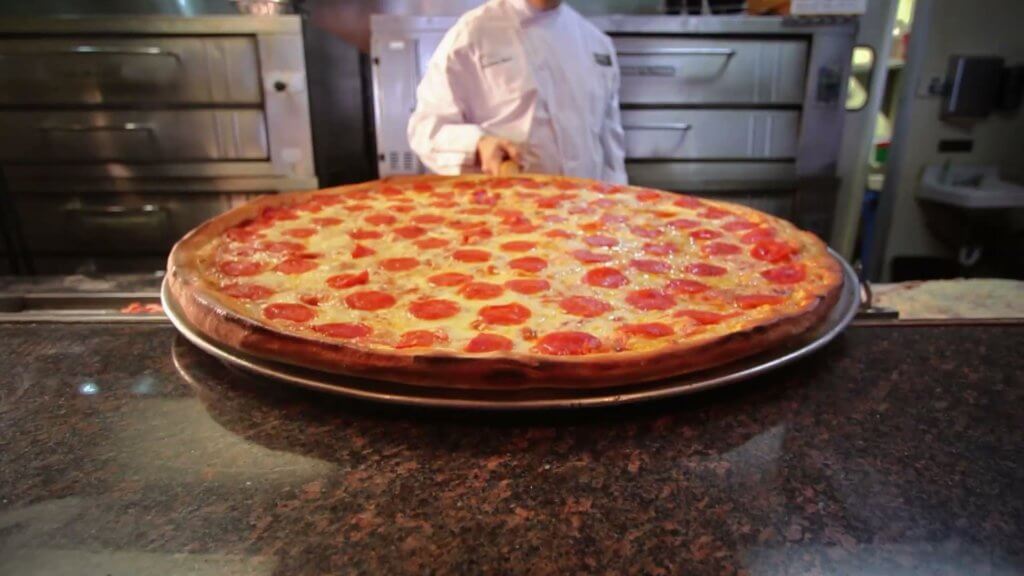 Add a Bunch of Toppings
A bigger pizza can certainly handle a variety of toppings to meet everyone's preferences. Whether you and your companions want add-ons such as pepperoni, sausage, mushrooms, onions, pineapple, or a blend of toppings, your pizza can be custom-made instead of having to order a bunch of pizzas.
More to Share
Sharing food is a form of bonding during get-togethers. A fantastic option to consider for a sizable group is to choose a pizza that is rectangular so that it may be sliced into equal squares. This way, each person will be given the same size as everyone else. Once you know how many servings your sliced pizza will produce, you can then order the number of large pizzas you will need to make sure that all your guests have enough to eat. Any extra slices can be happily utilized as leftovers by whoever wishes to do so.
Chef Anthony creates superb pizza and Italian entrees for customers to savor at Russo's New York Pizzeria. We also offer a spectacular variety of salads, desserts, and a children's menu, among our many selections. You and your party can even opt for healthy selections if desired. Our sought-after restaurant proudly has locations throughout Texas, as well as a number of international locations to suit you!