We've never understood why folks fight so much over whether you should put pineapple on pizza. If you search around the Internet, you'll find some rather deep debates and disagreements over this topic. Perhaps it just goes to show how serious people take their pizza (which we can understand).
We'd like to weigh in on the pineapple pizza discussion with a look at the history of pineapple on pizza, and why some either enjoy or despise it. Then, we'll showcase one of our special New York style pizzas featuring it.
Who Came Up With The Idea to Use Pineapple on Pizza?
Most Americans think pineapple is the sole domain of Hawaii. Although that area has a rich heritage of pineapple production, much of the current crop comes from places like Latin America.
The idea of putting pineapple on pizza goes back to the early 1960s, when a Greek entrepreneur, Sam Panopoulos, decided to try it at his Canadian restaurant. He took simple canned pineapple (nothing premium or fancy) and mixed it with the ham pizzas he made. That's why, to this day, people choose to combine it with either ham or Canadian bacon.
Why Some Folks Like It
Especially when you mix it with sweeter meats (especially pork), you can draw out a terrific blend of tastes from pineapple. Most pizza toppings pair well with one or more complimentary items, but there are some things that don't mix very well.
Then again, many patrons enjoy pineapple because they simply like its taste. It doesn't require a lengthy proof set.
Why Some People Detest Pineapple Pizza
Other pizza fans cannot tolerate pineapple on their pizza. For some, it just doesn't make sense to mix such a sweet fruit with cheese, tomato sauce, meat, or other common pizza components.
There are even some anti-pineapple partisans, so vehement in their opposition to its inclusion with pizza, who insist that the government outlaw it. We hope the opposition never goes quite that far.
Try Our Hawaiian Pizza (and Change Your Mind About Pineapple)
Perhaps, if you're not crazy about pineapple pizza, you've just never had the right kind. You might change your mind, however, after a couple bites of Russo's Hawaiian Pizza.
Our version incorporates just the right blend of pineapple, Canadian bacon, Wisconsin mozzarella, and other key ingredients for an almost perfect pizza. Plus, if you're after a lighter option, this one has fewer calories than other varieties.
Russo's New York Pizzeria makes dozens of authentic specialty pizzas, including some with sweet pineapple. We hope you'll consider trying ours sometime when you visit one of our many franchise locations. In the meantime, contact us anytime to learn more about pizza ingredients, catering options, or anything else you'd like to know.
Cheese is one of the greatest blessings ever to befall pizza. Although some folks enjoy a cheese-less slice every once in a while, the overwhelming majority of New York style pizzas involve lots of mouth-watering mozzarella. Many of our patrons love a classic cheese pizza, which you can get at Russo's → Five Different Ways!
We invite you to come try one with us this coming September 5th as we commemorate National Cheese Pizza Day.
Why Does National Cheese Pizza Day Matter?
So, cheese pizza is the most fundamental pizza formula, the starting point for some patrons, or the finished product for others.
Of course, there are an array of ways to put together a cheese pizza with a deep-dish, thin crust, or Brooklyn square. You can make pizza with a multitude of cheeses, too. Here are the most popular versions you'll find at top pizzerias.
Mozzarella (our favorite: authentic Wisconsin Mozzarella)
Cheddar
Provolone
Ricotta
Parmesan
. . . even Goat Cheese.
Also, did you know that cheese pizza is the most popular way to consume it among Americans? Yes, and it was even that way back in the old country, which they began doing in Naples, Italy by about the 18th century. Cheese pizza, like many other American favorites, became a huge hit after U.S. military troops brought it back with them when they returned from WWII.
Finally, if you prefer pizza with other great toppings, then have no fear. On September 20th, you get yet another commemoration: National Pepperoni Pizza Day. Hey, it's not like we need a bunch of excuses to enjoy pizza here at Russo's.
Five Cheese-Only Options at Russo's
Although almost all our pizza entrees contain 100% authentic, delicious Wisconsin Mozzarella, you'll be right at home if you desire a cheese-only pizza. We have five ways to enjoy a simple, delightful slice.
The Giant Slice - one enormous, satiating piece of cheese pizza.
Medium 12-Inch Cheese Pizza - perfect for two patrons; available in new cauliflower crust.
Large 16-Inch Cheese Pizza - same as above, but fit for four!
Large 16-Inch Brooklyn Square Cheese Pizza - another fan favorite at Russo's.
Giant 28-Inch Party Pizza - available as cheese-only or with other topping options; great for feeding up to eight to 10 people.
Don't forget that you can enjoy about two dozen pizza selections when you visit one of the Russo's New Pizzeria locations. We're also the best place for authentic Italian pasta, calzones, fresh salads, and appetizers.
Want to know more about Russo's or National Cheese Pizza Day?
Then call us anytime at 346-802-4700.
Mealtimes are the best times to promote family unity for a variety of reasons. For ages, families have bonded better through "breaking bread" with one another, which is something we take most seriously at Russo's.
Although it may seem obvious, here are some of the important advantages to gathering your entire kin together for lunch or dinner.
Reasons to Emphasize Family Mealtimes
The Perfect Time for Conversation - Families don't always get enough time to stop and discuss things in a comfortable environment. As long as nobody tries to speak with food in their mouth (very impolite), mealtime is the intuitive way to invite conversation. Dinner time, especially, is a terrific chance to slow down, gather for a wholesome meal, and peacefully foster communication.
Improve Mental Health - As most of us know, isolation and loneliness contribute to a myriad of mental health problems. That makes family mealtimes an important opportunity to counter those problems with deliberate family interaction. While some family members don't always get along perfectly, the best chance for healthy relationships, and better mental health, comes from spending time with one another.
Enjoy Healthier & Better Foods - There's nothing wrong with eating alone, but have you ever noticed you're more prone to eating poorly (i.e., junk food) whenever you do so? Perhaps there's a subtle accountability to eating with the rest of your family, which steers you away from poor dietary habits. Also, eating together tends to lead to superior meal decisions. Hopefully, as a family, you would prefer to dine on well-prepared meals (like pasta with salad and garlic bread) rather than a pile of dubious fast food items.
An Opportunity for Fun Dining Experiences Together - Finally, we couldn't finish this important subject without reminding you of how Russo's offers a quintessential family dining experience. Even beyond the food quality itself, our pizzeria restaurants focus on the total customer experience. You can visit us for a fine-dining experience, watch us cook pizza in a massive brick oven, order takeout for your family, or hire us to cater a family reunion.
So, if you'd like some help with reviving your family dinners, then we hope to see you at one of our many locations.
Russo's New York Pizzeria is a family-oriented franchise restaurant chain, dedicated to authentic Italian cuisine. Our menu has something for every member of the family: pizza, pasta, calzones, sandwiches, salads, and more. You're also welcome to contact us anytime to learn more about Russo's and how we facilitate outstanding family dining.
There's nothing more fun than celebrating food-themed days. While some commemorations are solemn or sophisticated, others are downright delicious and joyful. Lasagna Day (July 29th) and Cheesecake Day (July 30th) represent the latter with a back-to-back helping of tasty amusement.
We invite you to celebrate one (or both) of those with Russo's New York Pizzeria. In the meantime, here's a reminder of why those are two of our perennial favorites.
Lasagna Day: July 29th
Lasagna is nothing less than a true classic icon, a Russo's family favorite, and a guaranteed crowd-pleaser!
This is one of those rich entrees that rivals baked ziti and deep-dish spaghetti for the crown of "most satiating" menu item. You definitely won't leave hungry after enjoying a healthy filling of fresh tomatoes, pasta, onions, herbs, oregano, and more. It's also somewhat like baked ravioli, a fellow pasta dish with several layered ingredients sewed together to form one delightful meal; terrific for family dining.
So, if you're looking for a homemade, authentic Italian recipe, then look no further because it's here, waiting for you when you celebrate Lasagna Day at Russo's. We make our patented version with fresh pasta, Italian cheeses, braised beef, and special Chianti-braised meat sauce. Instead of settling on that so-so, frozen lasagna from the grocery store, this is the real deal, and one of our most popular Chef Russo Specialities.
Cheesecake Day: July 30th
What about a nice dessert item?
While cheesecake is one of the best, any day of the week, we hope you'll join us for extra fun July 30th. Our version comes straight from a NY bakery, offering that creamy, sweet, and unforgettable flavor. It involves a recipe that was perfected well over 100 years ago, but cheesecake has been around, in some form or another, since 2,000 BC. There's some dispute over the exact origin of this delectable dessert, but some believe it came from the Greek island of Samos many millennia ago.
Where do you go to find the best cheesecake, imported straight from New York?
Russo's New York Pizzeria and Italian Kitchen
Authentic Italian Food EVERY DAY at Russo's!
We also carry six other splendid desserts such as Truffle Cake, Cannolis, and Russo's Tiramisu. Very few patrons can resist our dessert menu, not to mention our large volume of entrees and appetizers.
So, even if you're not a huge fan of lasagna or cheesecake, you'll still find plenty of outstanding, mouth-watering Italian options at Russo's New York Pizzeria. We serve the most reliably authentic pasta, pizza, calzones, and other traditional items at our many franchise locations. If you'd like to learn more about lasagna, cheesecake, pizza, or anything else we make at Russo's, visit a location near you today!
Are you ready to cater a big party at work? How about a family reunion with two or three dozen relatives?

Well, you may not want to cook food for that many people all by yourself. Plus, it wouldn't be much of a party without the opportunity to break bread with everybody. Fortunately, when you partner with us for catering, you can enjoy all the bread, pasta, calzones, and pizza you want.
We offer this service at all our Russo's locations and would love to show you the many reasons Italian food is the best way to cater a party.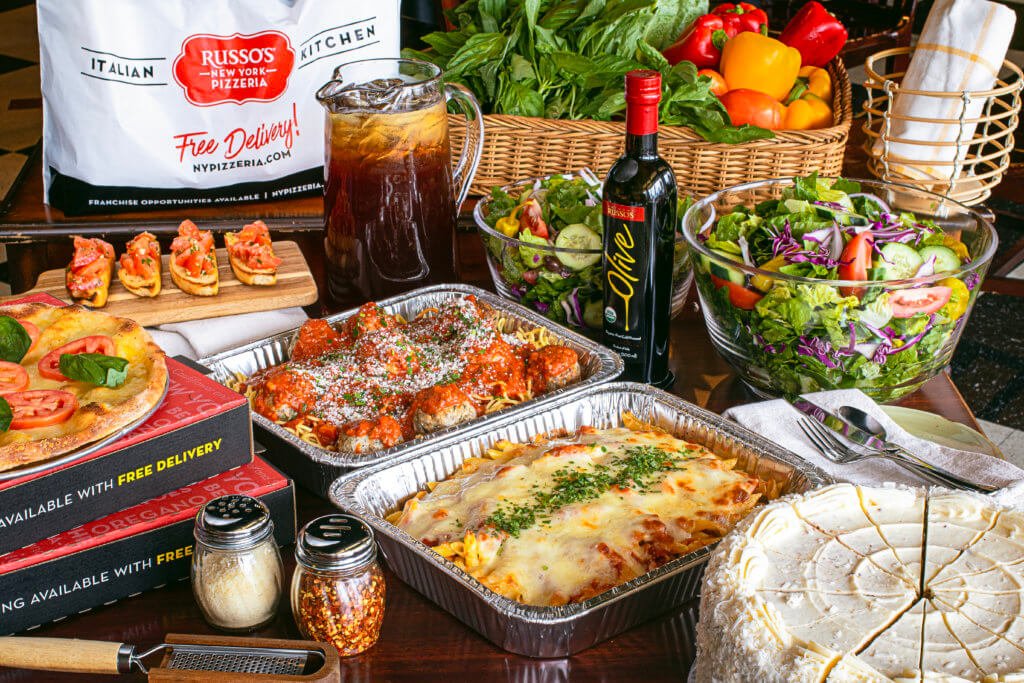 Save Time for Other Planning Aspects
While food may be the centerpiece of your party, there are often other considerations that demand careful planning, too. If it's a major event, like a baby shower, then you probably need time to mail invitations, mull over entertainment options, and select a venue. Wouldn't it be nice to cross food prep off your exorbitant to-do list?
Save Money As Well
It costs a lot to prepare meals for lots of guests if you "DIY" every aspect. Many party planners forget that you have to get all the utensils and cooking items to handle that volume. Considering how you may do this only once in a while, it's easier to depend on a catering company to do it for you. Plus, Italian food, depending on what you select, may be more affordable and low maintenance than other options. We can make it as ornate and elaborate as you like, but we also offer simpler sandwich tray and pizza packages.
We're Pro Chefs
Not that you couldn't cook a terrific meal yourself, but it never hurts to leverage the skills of a dedicated professional. We not only prepare first-class pizza and pasta, based on Chef Russo's expertise, but we can do it in large volumes. Therefore, if you're looking for guaranteed quality and high quantity, then your best bet is to let Russo's New York Pizzeria help you.
Reduce Stress & Enjoy Your Event
Even if you're a champ at planning and executing large gatherings, it's better to ask for help to avoid stress overload. Don't forget that party planning also includes the more cumbersome tasks like cleaning and setting up everything. Many clients opt for professional catering to alleviate some of that nuisance alone.
In case you need any more reasons to try Russo's New York Pizzeria for catering, we welcome you to explore our enormous, unique, and authentic Italian menu. There you'll find time-honored classics like Fettuccine Alfredo and Shrimp Scampi, not to mention outstanding pizza options such as the Giant 28 Inch Party Pizza.
Want to learn more about the best Italian food and Russo's catering service? Find your nearest location and call them today!
Since most adults and children love pizza, it is an ideal choice at mealtime for the family or when serving guests at a party. You can never seem to go wrong by offering others a pizza! Russo's New York Pizzeria provides 5 reasons why you should always order the biggest pizza.
Plenty of Slices
Since a larger pizza equals more slices, you can provide food for more people. This way, there will be less to carry, fewer boxes will take up less storage space on a table or counter, and you will not have as much cardboard to bring out to the curb for garbage/recyclable pick-up afterward.
A Better Deal
The cost of buying a large pizza is typically less expensive than the total price of buying several pizzas on the smaller side. Economically speaking, you will get a better deal since there is often a bit of a discount the bigger you go. Furthermore, the larger pizza will have more slices than the sum of two smaller pizzas together.
Enjoy Leftovers
Pizza leftovers make it easy to have dinner right at your fingertips, or if you happen to be in the mood for a late-night snack. Reheated pizza is often a desirable treat since eating this kind of leftover is no sacrifice at all. You can save money by bringing a few slices to work for lunch rather than spending a chunk of change at a restaurant.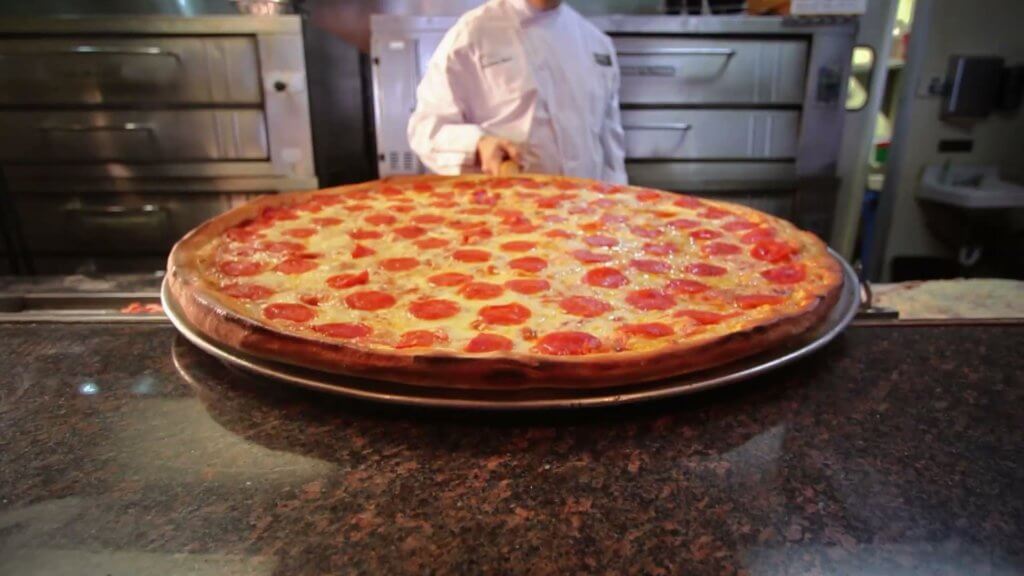 Add a Bunch of Toppings
A bigger pizza can certainly handle a variety of toppings to meet everyone's preferences. Whether you and your companions want add-ons such as pepperoni, sausage, mushrooms, onions, pineapple, or a blend of toppings, your pizza can be custom-made instead of having to order a bunch of pizzas.
More to Share
Sharing food is a form of bonding during get-togethers. A fantastic option to consider for a sizable group is to choose a pizza that is rectangular so that it may be sliced into equal squares. This way, each person will be given the same size as everyone else. Once you know how many servings your sliced pizza will produce, you can then order the number of large pizzas you will need to make sure that all your guests have enough to eat. Any extra slices can be happily utilized as leftovers by whoever wishes to do so.
Chef Anthony creates superb pizza and Italian entrees for customers to savor at Russo's New York Pizzeria. We also offer a spectacular variety of salads, desserts, and a children's menu, among our many selections. You and your party can even opt for healthy selections if desired. Our sought-after restaurant proudly has locations throughout Texas, as well as a number of international locations to suit you!
Pasta is an exceptionally popular type of cuisine that most of us have come to know and love. Its various shapes, sizes, and textures make this versatile food an edible staple. Over the decades, there has been much discussion and disagreement regarding its verifiable ancestral background. Russo's New York Pizzeria offers interesting tidbits concerning the history of Italian pasta.
(more…)
Deciding to throw a party entails many components as you must formulate a plan and then arrange and oversee a slew of specifics. Rather than managing everything yourself at home, we provide several advantages for hosting your next party at Russo's New York Pizzeria.
Leave the Cooking to the Chef
Planning a menu and then going to the supermarket for ingredients, and shopping for party supplies, along with all the cooking and cleaning involved is a ton of work. By holding your party at a trusted restaurant, the professional chef and staff will gladly give you a bunch of helping hands. Attendees will be able to choose and order their desired dishes from the menu served by the trained staff. After everyone is finished congregating at the eatery, there is no cleaning up to worry about as it will be done for you. 
Relax and Enjoy Your Celebration
As patrons, the number one goal of the entire staff is to ensure that everyone in your party has a phenomenal experience from beginning to end. Upon being comfortably seated, you can take in the restaurant's vibe and observe aesthetic characteristics like decor and lighting that help shape the mood for your event. Celebrating at a restaurant allows you to enjoy focusing on the conversation in the company of your family, friends, or coworkers.
Lower Your Anxiety 
There are so many details to remember when you are going through a party checklist so as not to overlook any of the items. This responsibility can be overwhelmingly stressful from the very beginning of the plotting stage until the festivities are completely over. Hosting at a restaurant relieves you of basically everything else once you let the staff know the size of your party and any accommodations you will need like dietary adjustments. You'll be able to relax knowing that the setup and preparation will be left to the hospitality experts and simply look forward to the awaited event. Instead of possibly being a frazzled host, you can happily sit back and mingle with everyone else and not miss a minute of the cheer.
Russo's New York Pizzeria is the go-to restaurant for a taste of authentic Italian cuisine. Chef Anthony prepares an appealing variety of foods listed on the menu besides out-of-this-world pizza. Dishes include pasta, appetizers, soups, salads, calzones, desserts, and a menu for kids. We also offer healthy dining options without skimping on deliciousness. Russo's is proud to have numerous locations for our customers' convenience. Please contact the location nearest you from our website and allow us to organize a top-notch party for you and your guests.
Can pizza be good for you?

Yes! It may depend on what kind of diet you're pursuing, and how well you manage your portions., but pizza can be healthy in a variety of ways. Here's why we believe that.
Several High-Protein Opportunities
Any reputable pizza parlor will have a dedicated "meat lover" option somewhere on its menu. This is where you get a solid dose of protein from sausage, pepperoni, ham, bacon, and more. If you eat with us, you'll find satisfying meaty selections like Doppio Pepperoni, Italian Works, and even Chicken Rustica pizza.
Enjoy Tomatoes? Great! They're Rich in Lycopene!
There's an antioxidant, known as Lycopene, which lowers bad cholesterol and blood pressure. The good news is you'll find plenty of it in the tomatoes in our Russo's Pizza Sauce.
Russo's Carries Multiple Vegetarian Options
You can order two outstanding veggie-focused pizzas: 1) Vegetarian Pizza, or 2) Heart Health Veggie™. These feature some of the best "superfoods" like fresh spinach, white onions, and artichokes. Don't forget that you can also dine with us for several savory salads, always chock full of garden-fresh vegetables.
Stay Leaner with Thin Crust or Cauliflower Crust
Would you like to eat pizza with fewer carbohydrates? That's no problem when you try one of our thin-crust options (like Brooklyn Square Nonna's). Plus, we even make cauliflower crust, which has been a tremendous hit lately.
Russo's Insists on Quality Ingredients
Part of today's anxiety over healthy dieting comes from an ubiquity of poor ingredients. Let's face it: much of what you find in a grocery store is dubious at best and relies on unpronounceable ingredients for preservation. Russo's, on the other hand, only uses fresh ingredients, including premium mozzarella and various gluten-free offerings.
Enjoying a Nice Slice of Pizza Helps You Relax
Don't forget about the mental health benefits of relaxing with a delicious slice of Russo's pizza. They don't call it "eat, drink, and be merry" for nothing. While you don't have to consume enormous amounts of food, there are obvious mental benefits for enjoying delicious items temperately after working hard all day.
That's a list of six reasons pizza could be good for you.
We believe you'll discover plenty of others when you visit Russo's New York Pizzeria. You can find us in several places around Houston, other parts of the country, and even internationally. Contact us anytime to ask about our menu or catering options by calling 346-802-4700.
Italian restaurants are the quintessential date night option for so many reasons. It's hard for anybody to turn down a savory meal in a warm and comfortable indoor dining ambiance. So, if you haven't been on a legitimate date with your spouse or loved one in a while, we invite you to have pizza for two at Russo's.
What Makes Pizza a Terrific Date Night Idea?
Pizzeria restaurants are fun, relaxed, and casual. Our locations are well-furnished with plenty of delightful amenities, but they also focus on keeping things comfortable. You can come "dressed to the nines" or show up in snappy casual attire just as well. Some of our restaurants even give you the chance to watch us prepare fresh pizza in large brick ovens.
The best pizzerias, like Russo's, have tons of menu variety. Make your next date night a chance to enjoy one of Chef Russo's novel creations:
Chicken Rustica Pizza
Sausage & Ricotta Pizza
Brooklyn Square Nonna's
New York Village
...and many others!
You can save the leftovers for later, too. That's because pizza actually tastes good even a day later. This is not always true of other restaurant food. When you wrap up some unfinished Doppio Pepperoni Pizza and take it home, you'll want to finish it later.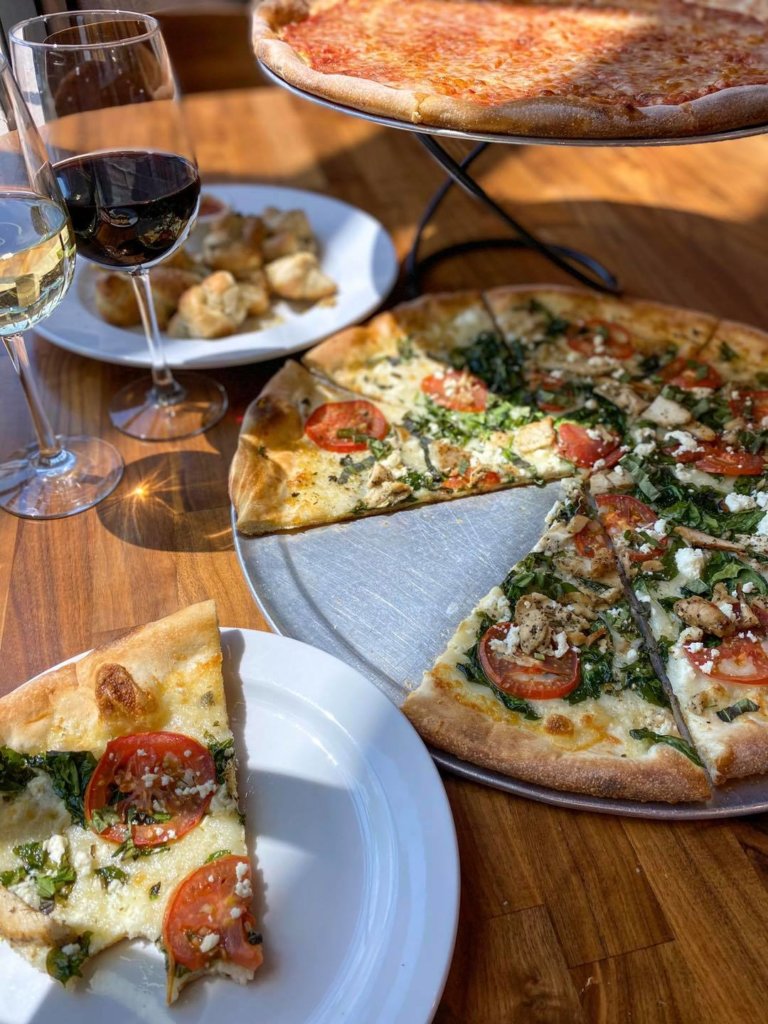 Ways Russo's Can Facilitate Your Date Night
Russo's New York Pizzeria is here to help you enjoy a relaxing evening with your significant other, and we offer several ways to do that. Even if you aren't in the mood for a large pizza, there are plenty of ways to cherish a good time together over soup, salad, numerous pasta selections, and more.
Then, if you prefer to stay home or enjoy pizza in another location, we can bring things to you with our delivery, catering, and takeout services. Some of the most cherishable dates could be with a couple of pizza slices during an outdoor picnic this spring. Our prompt takeout service makes that remarkably easy.
We know that planning a nice evening outing might be stressful, especially if you have additional plans afterward. That's why we like to assist to make things as easy as possible with these convenient services you can find at all our restaurants.
We can't wait to host you and your loved one for a memorable date night at Russo's New York Pizzeria. You can find us in several locations, around Texas and even internationally, serving the most authentic pizza and Italian cuisine. You're welcome to contact us anytime to learn more by calling 346-802-4700.