Deciding to throw a party entails many components as you must formulate a plan and then arrange and oversee a slew of specifics. Rather than managing everything yourself at home, we provide several advantages for hosting your next party at Russo's New York Pizzeria.
Leave the Cooking to the Chef
Planning a menu and then going to the supermarket for ingredients, and shopping for party supplies, along with all the cooking and cleaning involved is a ton of work. By holding your party at a trusted restaurant, the professional chef and staff will gladly give you a bunch of helping hands. Attendees will be able to choose and order their desired dishes from the menu served by the trained staff. After everyone is finished congregating at the eatery, there is no cleaning up to worry about as it will be done for you. 
Relax and Enjoy Your Celebration
As patrons, the number one goal of the entire staff is to ensure that everyone in your party has a phenomenal experience from beginning to end. Upon being comfortably seated, you can take in the restaurant's vibe and observe aesthetic characteristics like decor and lighting that help shape the mood for your event. Celebrating at a restaurant allows you to enjoy focusing on the conversation in the company of your family, friends, or coworkers.
Lower Your Anxiety 
There are so many details to remember when you are going through a party checklist so as not to overlook any of the items. This responsibility can be overwhelmingly stressful from the very beginning of the plotting stage until the festivities are completely over. Hosting at a restaurant relieves you of basically everything else once you let the staff know the size of your party and any accommodations you will need like dietary adjustments. You'll be able to relax knowing that the setup and preparation will be left to the hospitality experts and simply look forward to the awaited event. Instead of possibly being a frazzled host, you can happily sit back and mingle with everyone else and not miss a minute of the cheer.
Russo's New York Pizzeria is the go-to restaurant for a taste of authentic Italian cuisine. Chef Anthony prepares an appealing variety of foods listed on the menu besides out-of-this-world pizza. Dishes include pasta, appetizers, soups, salads, calzones, desserts, and a menu for kids. We also offer healthy dining options without skimping on deliciousness. Russo's is proud to have numerous locations for our customers' convenience. Please contact the location nearest you from our website and allow us to organize a top-notch party for you and your guests.
Can pizza be good for you?

Yes! It may depend on what kind of diet you're pursuing, and how well you manage your portions., but pizza can be healthy in a variety of ways. Here's why we believe that.
Several High-Protein Opportunities
Any reputable pizza parlor will have a dedicated "meat lover" option somewhere on its menu. This is where you get a solid dose of protein from sausage, pepperoni, ham, bacon, and more. If you eat with us, you'll find satisfying meaty selections like Doppio Pepperoni, Italian Works, and even Chicken Rustica pizza.
Enjoy Tomatoes? Great! They're Rich in Lycopene!
There's an antioxidant, known as Lycopene, which lowers bad cholesterol and blood pressure. The good news is you'll find plenty of it in the tomatoes in our Russo's Pizza Sauce.
Russo's Carries Multiple Vegetarian Options
You can order two outstanding veggie-focused pizzas: 1) Vegetarian Pizza, or 2) Heart Health Veggie™. These feature some of the best "superfoods" like fresh spinach, white onions, and artichokes. Don't forget that you can also dine with us for several savory salads, always chock full of garden-fresh vegetables.
Stay Leaner with Thin Crust or Cauliflower Crust
Would you like to eat pizza with fewer carbohydrates? That's no problem when you try one of our thin-crust options (like Brooklyn Square Nonna's). Plus, we even make cauliflower crust, which has been a tremendous hit lately.
Russo's Insists on Quality Ingredients
Part of today's anxiety over healthy dieting comes from an ubiquity of poor ingredients. Let's face it: much of what you find in a grocery store is dubious at best and relies on unpronounceable ingredients for preservation. Russo's, on the other hand, only uses fresh ingredients, including premium mozzarella and various gluten-free offerings.
Enjoying a Nice Slice of Pizza Helps You Relax
Don't forget about the mental health benefits of relaxing with a delicious slice of Russo's pizza. They don't call it "eat, drink, and be merry" for nothing. While you don't have to consume enormous amounts of food, there are obvious mental benefits for enjoying delicious items temperately after working hard all day.
That's a list of six reasons pizza could be good for you.
We believe you'll discover plenty of others when you visit Russo's New York Pizzeria. You can find us in several places around Houston, other parts of the country, and even internationally. Contact us anytime to ask about our menu or catering options by calling 346-802-4700.
Italian restaurants are the quintessential date night option for so many reasons. It's hard for anybody to turn down a savory meal in a warm and comfortable indoor dining ambiance. So, if you haven't been on a legitimate date with your spouse or loved one in a while, we invite you to have pizza for two at Russo's.
What Makes Pizza a Terrific Date Night Idea?
Pizzeria restaurants are fun, relaxed, and casual. Our locations are well-furnished with plenty of delightful amenities, but they also focus on keeping things comfortable. You can come "dressed to the nines" or show up in snappy casual attire just as well. Some of our restaurants even give you the chance to watch us prepare fresh pizza in large brick ovens.
The best pizzerias, like Russo's, have tons of menu variety. Make your next date night a chance to enjoy one of Chef Russo's novel creations:
Chicken Rustica Pizza
Sausage & Ricotta Pizza
Brooklyn Square Nonna's
New York Village
...and many others!
You can save the leftovers for later, too. That's because pizza actually tastes good even a day later. This is not always true of other restaurant food. When you wrap up some unfinished Doppio Pepperoni Pizza and take it home, you'll want to finish it later.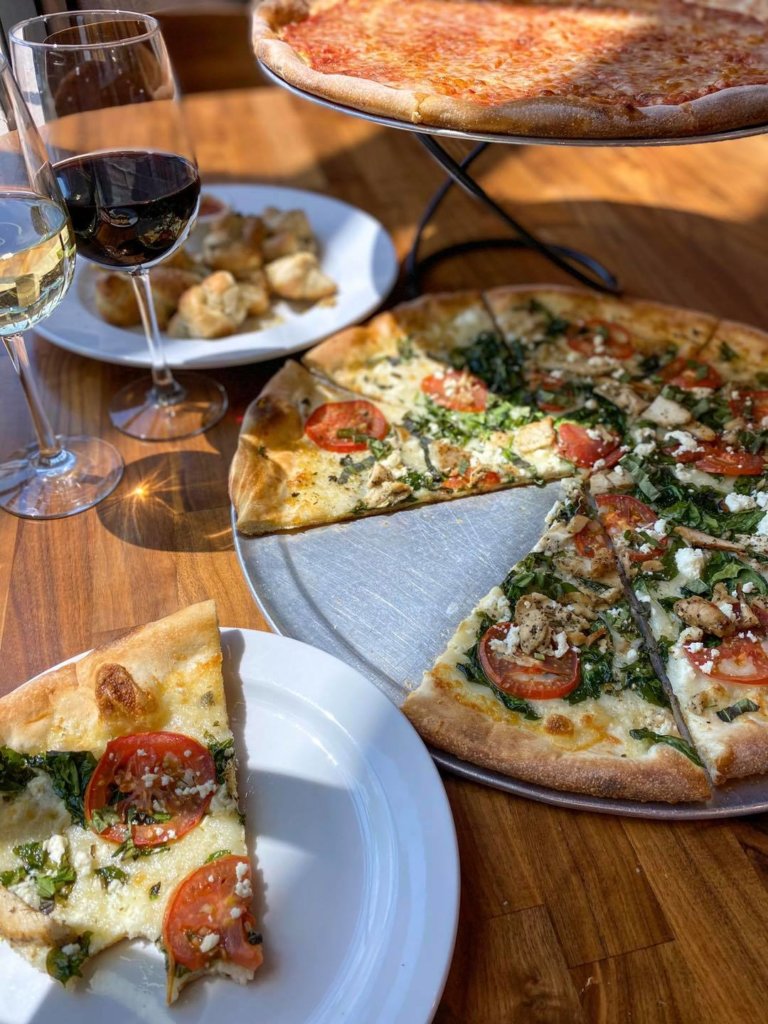 Ways Russo's Can Facilitate Your Date Night
Russo's New York Pizzeria is here to help you enjoy a relaxing evening with your significant other, and we offer several ways to do that. Even if you aren't in the mood for a large pizza, there are plenty of ways to cherish a good time together over soup, salad, numerous pasta selections, and more.
Then, if you prefer to stay home or enjoy pizza in another location, we can bring things to you with our delivery, catering, and takeout services. Some of the most cherishable dates could be with a couple of pizza slices during an outdoor picnic this spring. Our prompt takeout service makes that remarkably easy.
We know that planning a nice evening outing might be stressful, especially if you have additional plans afterward. That's why we like to assist to make things as easy as possible with these convenient services you can find at all our restaurants.
We can't wait to host you and your loved one for a memorable date night at Russo's New York Pizzeria. You can find us in several locations, around Texas and even internationally, serving the most authentic pizza and Italian cuisine. You're welcome to contact us anytime to learn more by calling 346-802-4700.
Professional catering for major events is one of our favorite things to do at Russo's New York Pizzeria. There are a plethora of great party or event ideas that lend themselves to catering with pizza and other Italian foods.
(more…)
Is there anything better than a hot, fresh slice of pizza? Young or old, it's a favorite of many! All of us here at Russo's New York Pizzeria can't get enough and love learning all we can about the dish. We took it upon ourselves to find out more about the history of pizza delivery seeing as it's become so popular!
(more…)
Why do people love pizza so much?

That's one of those questions that may as well have a million answers; all of them valid. Since there are so many ways to demonstrate how pizza is the king of American food service, we'll narrow it down to a brief list. These are our favorite reasons pizza, especially the authentic New York-style, is America's favorite.
(more…)
We always want to pay attention to heart health when making dietary decisions. Believe it or not, there are abundant ways to improve heart function with the foods you'll find on an authentic Italian restaurant menu, like ours.
Since February commemorates both Valentine's Day and American Heart Month, we thought it'd be worthwhile to look at some healthy pizza and pasta options. So, check out these delightful ways to eat well and keep your ticker running for a long time.
(more…)
There's nothing like a nice glass of wine to go with a couple slices of pizza at the end of the day. In fact, you could do precisely that to commemorate Drink Wine Day (Feb. 18th) by ordering takeout from Russo's. There are many splendid ways to match wine and Italian food, but we'll cover a few of our favorites in this post.
(more…)
Would you like to know a few of the secrets to making perfect artisanal crust?
It takes a little skill and know-how, but there's a craft behind making either a deep, thick, and chewy pizza, or that spectacular crispy/thin version. In this post, we'll show you a few ways to cook pizza with a wood-fire oven just like we do at Russo's New York Pizzeria.
(more…)
While everyone else makes resolutions to lose weight or exercise more, we have a better approach at Russo's New York Pizzeria. Why not make a resolution you can actually keep this year?
(more…)