LOBSTER MAFALDINE PASTA RECIPE

How to Make:

Lobster Mafaldine Pasta
Two main traditional Italian ingredients: Lobster & Mafaldine Pasta make up this amazing dish. Mafaldine pasta, named after Princess Mafalda of Savoy, is ribbon-shaped, flat, wide, and has wavy edges on both sides. This cut of pasta is meaty and holds other ingredients very well within its ridges. The addition of lobster, of course, highlights the coastal region of Italy. Bringing his authentic family recipe from Italy, Chef Anthony shows us how to make this decadent Italian dish. Follow along to experience your own taste of Italy.
Servings: 4
Prep Time: 15 Minutes
Cook Time: 20-30 Minutes
Total Time: 35-45 Minutes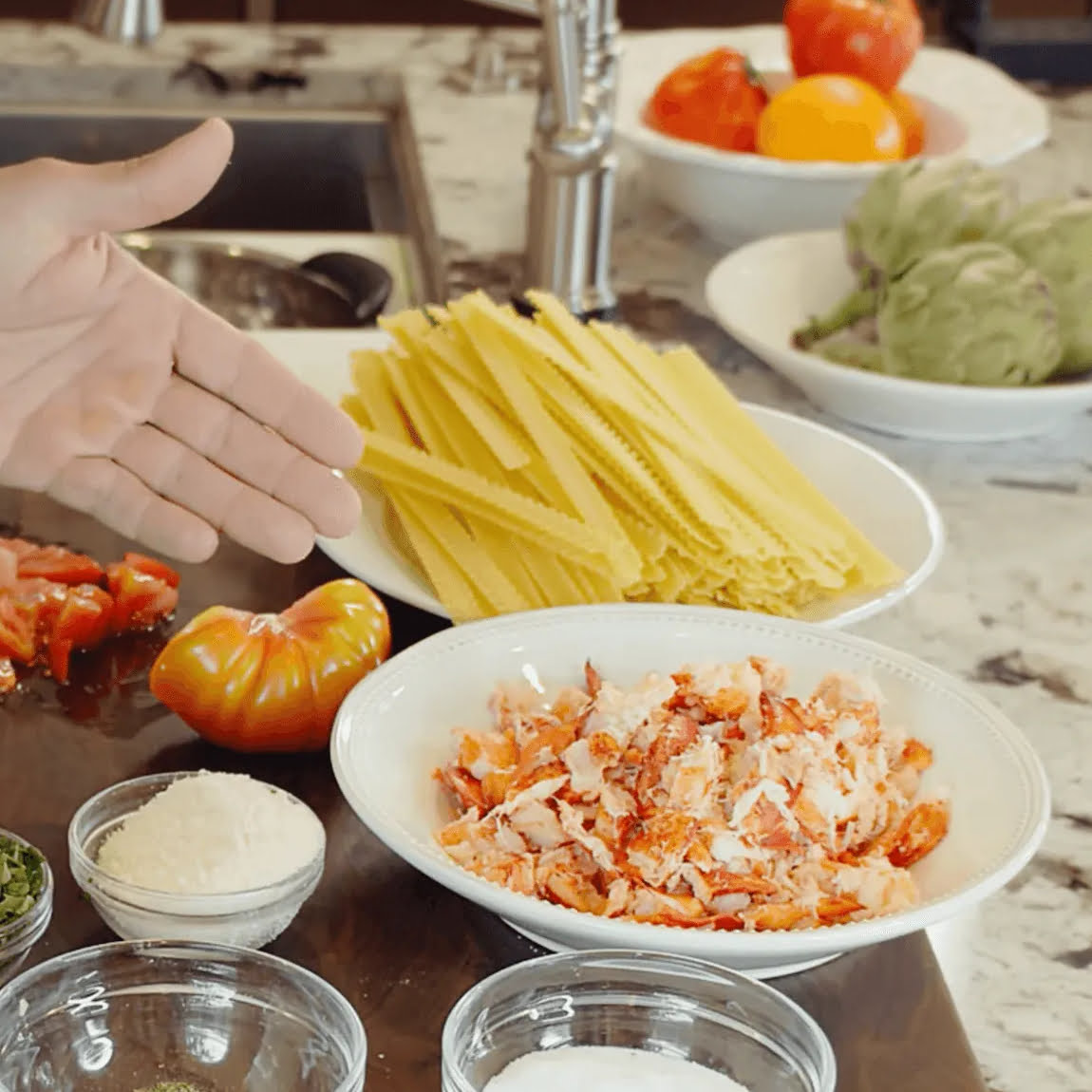 1 1/2 lb. lobster meat 

2 lb. mafaldine pasta

1 Pinch of salt

1 Pinch of pepper

3 tbsp. Sicilian extra-virgin olive oil

1/2 yellow onion — chopped

3–4 cloves garlic — finely chopped or grated

1–2 pinches of crushed red pepper flakes

1/2 cup dry white wine 

1 3/4  cup half cup of heavy cream

1 Roma tomato — chopped 

1/2 cup grated Pecorino Romano cheese 

1 Pinch of Italian parsley
Directions
Chop your onion, garlic, and tomatoes.

Bring a large pot of water to a boil. Add salt liberally, let water return to a boil and cook pasta to al dente (takes about 6min!). Drain and set aside.

Meanwhile, heat a large skillet over medium heat with Sicilian extra-virgin olive oil. Add onions and garlic, sauté for 5 minutes, or until golden brown. 

Stir in lobster meat and chopped tomato, bring to a bubble. 

Add chopped parsley, adjust flavor with salt & pepper as needed.

Add white wine and cook for 3–4 minutes. 

Raise the heat a bit then add pasta, heavy cream, and Romano cheese. Cook for 2 minutes. Adjust seasoning as needed and serve.

Bon appetite!