As the holiday season approaches, the whirlwind of festivities, shopping, and decorating can easily take over, leaving little time or energy for cooking. When it comes to planning meals, the challenge of preparing a homemade feast can be daunting. That's where Russo's New York Pizzeria & Italian Kitchen comes in, offering the perfect solution for your holiday dining with their pizza and Italian food delivery.
Here are several compelling reasons why Russo's stands out as the top choice for your holiday delivery:
Savory and authentic New York-style pizza and Italian cuisine.
With over 30 years of experience, Russo's has been delighting customers with a diverse menu featuring pizzas, pastas, salads, and other beloved Italian classics.
Effortless online ordering.
Take advantage of the convenience of ordering your favorite dishes online for quick delivery or easy pickup.
Swift and dependable delivery.
Serving Clovis, Fresno, and the surrounding area, Russo's ensures your order reaches you promptly and reliably.
Exceptional value for your budget.
Russo's offers an array of affordable menu options, including family-sized pizzas and pasta platters.
For a seamless experience, consider these helpful tips when placing your holiday delivery order from Russo's:
Plan ahead by ordering in advance to guarantee timely delivery, especially during your busy schedule.
Beat the holiday rush by placing your order early in the day to secure your preferred delivery time.
Elevate your holiday gatherings with Russo's catering services, suitable for parties of any size.
You can find Russo's New York Pizzeria & Italian Kitchen at 1845 Herndon Ave Suite C in Clovis, CA. Place your order online or give us a call 559-578-8070.
Simplify your holiday season by indulging in the delectable delights of pizza and Italian cuisine delivered straight to your doorstep from Russo's New York Pizzeria & Italian Kitchen.
As we gradually shift into the holiday season, there's quite a bit of planning and preparation that are all part and parcel of this particular time of year. Aside from the presents, visitations, and other yearly traditions, you'll more than likely have some events to prepare for. This means a lot of prepping, cooking, and ensuring that your guests enjoy themselves while also being well-fed. If only there were a solution to all of these matters that was quick, convenient, and cost-effective for the holiday season. And you know what? There is!
If you and those in your inner circle are fans of pizza and other forms of authentic Italian cuisine, maybe it's time you changed up the holiday meal routine with some catering fresh from Russo's New York Pizzeria - Windmill Marketplace. One of the proudest Italian traditions is the celebration of company. Having friends and family over and enjoying one another is certainly not complete without a hearty meal to cap off the perfect evening. Not to mention, there are plenty of leftovers for the following day at breakfast.  
Here at Russo's, we're known for much more than just great pizza. While ordering one of our pies has always been a perfect solution for a collection of hungry families and those in need of a last-minute solution to dinnertime, we offer much more in terms of variety. No matter what, you and your guests might be in the mood for this holiday season, you'll have a vast array of authentic Italian dishes to choose from. Italian cuisine is one of the most inclusive and known for its vast array of flavors and variety, not to mention hearty portions that are always delicious and filling.
From our menu, you'll have your free reign of options to choose from, like our authentic pasta, soups, sandwiches, and calzones, and you'll even have the opportunity to choose a few libations to wash everything down with. Of course, the best thing about ordering catering from Russo's is the chance to have someone else do all the cooking and prep work. At the same time, you get to focus on more important matters–such as spending time with your family and enjoying the holiday and all of the celebrations it has to offer.
If you're excited about the holidays but not looking forward to the heavy lifting, let Russo's New York Pizzeria in Clovis be of service. Give us a call at 559-578-8070 and let us handle the food!
As the leaves begin to fall and the football season kicks into high gear, there's nothing quite like the thrill of watching your favorite team while enjoying the BEST New York-style pizza from Russo's New York Pizzeria in Clovis, CA. Whether you're hosting a gathering at home or looking to elevate your game-watching experience, Russo's has got you covered with our delicious Italian food offerings.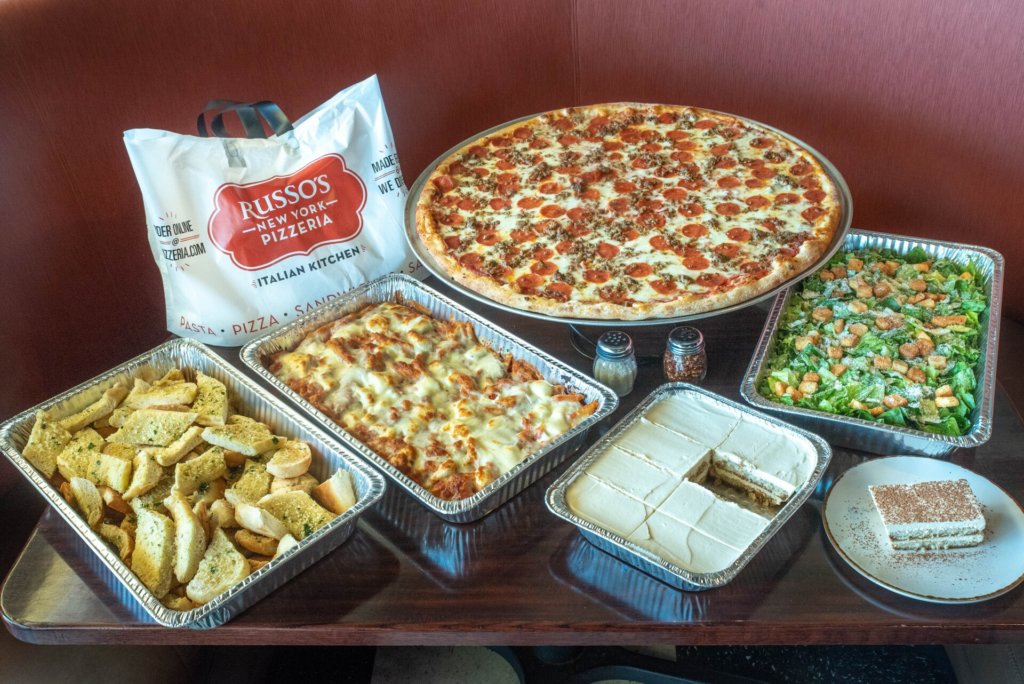 Pizza Perfection and More for Your Game Day Needs
At Russo's, we understand that game days are all about indulging in mouthwatering dishes, and that's why we offer a wide range of party meal options that are sure to satisfy every craving. Take a look at our extensive, authentic Italian dining menu and explore the possibilities. Whether you're in the mood for a meat lover's pizza, a classic Hawaiian-style pie, or if you're leaning towards pasta, we've got it all to make your game day special.
Simplify Your Game Day with Our Giant 28-inch Party Pizza
Some fans prefer to keep it simple when it comes to game-day grub. That's why we offer our Giant 28-inch Party Pizza, big enough to feed 10 guests. It's the perfect centerpiece for your football get-together, ensuring that nobody leaves hungry.
Delight in Our Irresistible Appetizers
For those who like to mix and match or just want a variety of tasty appetizers, we've got you covered. Our Jumbo Liberty Wings are a game day essential and are available in three mouthwatering sauces: lemon pepper, parmesan garlic, or spicy hot buffalo. These wings are a perfect pre-game snack or complement to your pizza.
The Game Day Classic: Pizza and Buffalo Wings
No game day is complete without the timeless combination of pizza, buffalo wings, and beer. At Russo's, we give you the freedom to mix and match pizza varieties with wing flavors to suit your taste buds. One classic pairing is buffalo wings with buffalo chicken pizza, and our Chicken Rustica Pizza is sure to impress. It's loaded with grilled chicken, special Wisconsin Mozzarella, Roma tomatoes, and fresh ingredients that create a flavor explosion. If you're looking for more meaty toppings, you can easily satisfy your cravings with our New York Village or Italian Works specialty pizzas.
Russo's: Your Game-Day Destination in Clovis, CA
Whether you're watching the game at home or planning to host a get-together, Russo's New York Pizzeria in Clovis, CA welcomes you throughout the football season for lunch, dinner, and more. We even offer a dedicated catering service so that you can enjoy our premium food right at your tailgate or house party. For more information, feel free to reach out to us at 559-578-8070. Make Russo's your ultimate game-day spot, and let us elevate your football-watching experience with our delectable pizza and Italian dishes.
Are you running short on ideas for a quality date night with your spouse?

Have you considered pizza and a movie? Yes, authentic Italian food can make for a delightful "stay-in" date night, especially when both parties are exhausted and don't want to go anywhere. Here are a few suggestions on how to create a sweet and special pizza-and-a-movie evening (with our help).
Designing a Perfect Date Night with Delicious Pizza
Create a Romantic Ambiance - If you set the mood properly, we can take care of the food component. Here's where you decide how romantic and cozy you'd like to make things. You could, for example, set up candles and grab a bottle of red wine. Many of our Italian entrees match that exquisitely. Before you do anything else, make sure you have your place clean and decluttered, so you can relax and enjoy dinner and a movie.
Place an Order at Russo's - Pizza is a popular favorite and doesn't require you to break out a bunch of silverware. That being said, you can also use us for shrimp scampi, chicken calzones, and several dinner favorites. If you aren't sure whether to order Hawaiian pizza or Italian Works, make sure you go over things with your date before selecting anything. Our menu is full of options, so take your time and order in advance.
Find the Right Movie - Date night probably isn't the time for intense horror films or something that would elicit nightmares, but pick something that won't put you to sleep. Comedy is perhaps the best bet for a pleasant all-around experience.
Enjoy a Fantastic Date Night - The best part is that you get to have quality time with your spouse, without having to drive anywhere, wait in line, or deal with noisy folks. Of course, you're welcome to see us in person, too, or use us to cater family or business events. Either way, it's hard to top pizza for almost any communal gathering.
As always, your friends at Russo's can't wait to facilitate your events, parties, and even date nights with delicious pizza, pasta, and other Italian entrees. It's much easier to cultivate a romantic and relaxing atmosphere with authentic Italian cuisine.
Russo's New York Pizzeria - Windmill Marketplace is available all the time for lunch or dinner dates of any sort. If you'd like to inquire about our menu or anything else we offer, then call us anytime for prompt assistance at 559-578-8070.
It's a situation that you've faced many times before. Your family is hungry. Not only that, but they tend to be finicky about what they like to eat for dinner, and the thought of slaving in a kitchen after a hard day's work is just too arduous a task to contemplate at the moment. Ordering out is a great way to get your fill without all of the work and toil that comes from cooking. And there's no better option than ordering out for pizza from Russo's. But don't just take our word for it—we've asked some experts to chime in as to why this is sometimes the best course of action.
Convenience
Ordering out isn't just a means of having a fulfilling meal delivered right to your doorstep. It also cuts the time, work, and other aspects of cooking from the equation and allows you and your family to have some well-deserved quality time with each other. Besides, eliminating the need to clean up afterward is always welcome. And because the pizza at Russo's is always fresh, you're guaranteed to please everyone at the table.
Cost-Effective
Believe it or not, some financial experts have attested to the financial-conscious ways in which eating out is effective. Here at Russo's, we always have plenty of deals and offers that you can take advantage of. One of the best things about ordering pizza from Russo's is that there are always leftovers. With just one phone call, you not only have dinner, but you also have breakfast and lunch for the next day. (Who could possibly turn down cold pizza in the morning? We certainly can't!)
Eat Wherever You'd Like
Just because you are getting hot and fresh pizza delivered to your door doesn't mean you have to stay at home. Go somewhere and enjoy a meal in the calm and relaxing autumn weather. Hayrides are bound to happen around this time of year, and if you're fortunate enough, you can bring a pizza with you and wash it all down with some cider. 
Whether you're short on time or just have a craving that only pizza can satisfy, there's always a good reason to order out from Russo's New York Pizzeria. Authentic cuisine that's crafted with care is what our business is, and business is good! Visit us online to place an order online or give us a call at 559-578-8070.
Where's the best place to find authentic Italian food in Clovis and Fresno County?
Russo's New York Pizzeria fulfills your need for mouth-watering pizza, pasta, and more. Plus, we're the masters of fast takeout/delivery service without compromising quality.
Here's a snapshot of what you get whenever you visit Russo's in Windmill Marketplace.
Russo's New York Pizzeria - Pizza & Italian Food, Par Excellence
Legitimate, Delicious Italian Food - No other local restaurant can boast the same menu variety that we possess at Russo's. There's no better place to enjoy a slice of pizza with a side salad. Even if that's not your thing, you'll find no shortage of fantastic pasta favorites like Spaghetti Carbonara, Baked Ziti, Eggplant Parmesan, or Truffle Mushroom Campanelle. Other patrons give us rave reviews for our many sandwiches, calzones, and classic dessert items.
Convenient Takeout - Folks are extra busy, nowadays. That's why we place a special emphasis on takeout service. It's super easy to place an order online, and pick it up from us within minutes. This includes an array of pizza-by-the-slice options, an optimal cravings crusher for working professionals (who are often tempted to skip lunch).
Fast Delivery - Food delivery has been essential since the pandemic started in 2020. It's yet another way Russo's responds to customer demands. Therefore, as soon as you and your family want pizza and pasta, but would rather stay home, you can call us to bring everything to you.
Event Catering - Did you know we offer catering service as well? Imagine having a Giant Pizza (or two) for your next family reunion, department luncheon, or any fun gathering. Our team can bring almost anything of our full menu to help you feed small, medium, and large parties. This includes everything from pizza and drinks to salads, sandwich trays, lunch boxes, and more.
Visit Russo's for Lunch or Dinner Soon!
So, we hope this convinces you to make Russo's one of your first considerations whenever you decide where to go for lunch or dinner. We're a small and popular restaurant, which fills fast, but don't let that deter you from exploring our other terrific services (takeout, delivery, catering, etc.).
Russo's New York Pizzeria - Windmill Marketplace proudly serves the Clovis community with authentic Italian cuisine, every day but Tuesday, from 11 am to 9 pm. You're welcome to call us anytime to learn more or place an order at 559-578-8070.