Russo's Restaurants, the family of dining concepts that includes Russo's New York Pizzeria and Russo's Coal-Fired Italian Kitchen, announced plans to significantly enhance the brands' footprint in the Middle East and Asia a result of the successful openings of 3 branches in the UAE.
Evidencing the excitement around both brands, in 2013 Russo's not only expanded international, but also into 2 new states in the USA, Arkansas & Oklahoma and kicked off 2014 with the opening of the company's first Hawaii location in Ewa Beach. An additional 12-15 restaurants are planned to open during the remainder of the year with more locations opening in Dubai, Abu Dhabi, Riyadh and Bahrain in addition to several cities in the USA including Dallas, Houston, San Antonio and Austin.
Russo's New York Pizzeria will be participating at The World Franchise Forum & Exhibition taking place on Tuesday 20th and Wednesday 21st May 2014 at Grosvenor House Hotel, located in Dubai Marina in Dubai, United Arab Emirates.
"Our franchise opportunities can't be beat " says Suzanne Boyadjian, Russo's international franchise development manager. "For those looking to develop a territory with one of the best pizza concepts or a distinctive full-service Italian restaurant, our award winning concepts are sure to impress. Our program is designed for franchise partners that are looking for the chance to own part of a brand that is built to stand the test of time – a pair of proven concepts."
Anthony Russo, owner of the award-winning Russo's New York Pizzeria, is currently exhibiting at the SIAL CHINA; Asia's leading Food & Beverage exhibition taking place until May 15, 2014 at the Shanghai New International Expo Centre .
Serving the company's signature extra-large 28-inch party pizza, prepared with fresh dough without additives or preservatives, topped with sauce made from premium hand-selected tomatoes and authentic Italian cheese, the Russo's New York Pizzeria stand is proving to be the number 1 attraction at Asia's largest food show with huge queue's of people eagerly waiting for a slice of their award-winning pie.
We've exceeded our growth goals," said Chef Anthony Russo, a formally trained chef who opened his first Russo's New York Pizzeria in 1992 and later developed Russo's Coal-Fired Italian Kitchen. "Russo's expansion just cannot be contained, and we are pleased to provide our loyal fans with additional Russo's locations around the world.
The pizza chain has an optimistic agenda for business development in international markets. With the logistics already in place, Russo plans on selling area development in several Asian and Middle Eastern markets resulting in numerous franchise opportunities. "We already have some serious interests in this region and beyond as we are aiming to build a global brand. We are extremely excited about the opportunities that both shows bring," Russo says.
Franchisees have found success in Russo's proven concepts – the New York Pizzeria is family-style casual, and the Coal-Fired Italian Kitchen is a bit more upscale full-service concept.
Russo's franchisees have access to a top-notch training program, ongoing franchisor support and the convenience of tapping into Russo's resources and proven concepts.
From traditional Italian appetizers like bruschetta and fried calamari to coal-fired pizzas, homemade pastas and an impressively authentic Italian dessert selection, diners at the New York Pizzeria run an average of $23 per check. Coal-Fired Italian Kitchen guests spend an average of $42 per check.
Menu innovation is at the heart of Russo's Restaurants' successes. Blending generations of Russo family Italian recipes, Chef Anthony's handpicked ingredients and a commitment to research and development, the brands have continued to stay ahead of culinary trends. A prime example is the development of a full line of gluten free pizzas – a sincere response to the request for the great-tasting gluten-free pizza from thousands living with Celiac disease.
Russo's New York Pizzeria and Russo's Coal-Fired Italian Kitchen trace their origins to a tight-knit family where the kitchen was the center of all activity. As a young child, Chef Anthony helped his grandmother roll dough for cannoli, carefully wrapping it around four-inch wooden broomsticks to get the right shape before it cooked. By the age of 12 Anthony was learning authentic Italian recipes. Earning the Chef's distinction as an 18-year-old, Anthony honed his skills as a culinary expert working in his parents fine Italian restaurant and then opened his own pizzeria while still a young man.
The Russo's name has become synonymous with authentic Italian meals. Beyond the brand's specialty New York-style pizzas, menu items include fresh salads (insalata), soups (zuppe) and homemade pastas. Authentic Italian cannoli, fresh seafood, chicken, veal and flatbread sandwiches are just some of the distinctive dishes on the menu.
The Russo's menu is driven by the growing demands and trends in the wellness community, using powerful and nutritional ingredients. That's what separates us from the rest.
Today, many of the national pizza chains place emphasis on cost saving at the expense of quality. Some national chains have even publicly admitted to serving poor quality ingredients on their pizza. Next time you're placing an order, just ask the simple question, "Is your pizza sauce made from scratch?" You'll be surprised at the answers!
In the Russo's kitchen, we use all-natural ingredients to prepare our pizza with quality toppings that contain no nitrates or additives. We personally select the finest ingredients like extra virgin olive oil, all natural flour and 100 percent mozzarella cheese. Our fresh, from-scratch pizza concept is constantly catching the attention of consumers, the community and investors alike. The numbers speak for themselves: with 32 operating locations and more than 28 in development, our franchisees recognize the uniqueness of Russo's concepts.
In fact, Russo's is expanding into new markets and growing in existing ones as well. We plan on opening 22 units in the Texas market alone. Plus, current franchisees have plans to expand to second and even third locations.
"If it isn't fresh, don't serve it," is the simple Russo's family promise that drives our franchise success.
With more than 30 years of experience in restaurant management and ownership, Russo's Restaurants has perfected the classic Italian dining experience, and the brand is making it easier than ever to get started on this exciting journey. For franchise information, please contact Russo's at nypizzeria.com/franchise.
Authentic New York-Style Pizza is more than just a thin crust. In Chef Anthony's kitchen, it means Italian semolina wheat dough, Californian vine-ripened tomatoes and pure, fresh mozzarella cheese. Quality ingredients are the foundation of this New York-Style Pizzeria powerhouse.
Characterized by a thin layer of tomato sauce and a generous topping of mozzarella cheese, New York-Style Pizza comes in large, wide slices. The pizza was often made in coal-fire ovens. It was originally eaten as street food, folded in half. Currently, there are over 400 pizzerias in New York City alone, making it one of the most popular foods in the city, both as a snack and dinner.
Growing up in New York, pizza was a staple in the Russo family. Anthony began making pizza in his grandmother's kitchen as a young boy, soaking up old family secrets. Now, as a restaurateur and chef, he imbues every recipe with Italian tradition and a modern appreciation for 100 percent fresh ingredients, including his New York-Style Pizza. Every crust is hand-tossed, topped with fresh, hand-crushed tomato sauce and mozzarella shipped to each restaurant straight from a Wisconsin dairy farm. And just like the original, every Russo's pizza is made in a coal-fired or brick oven, giving it that distinct New York-Style Pizza taste.
In the South and Midwest, regions where this style of pizza is hard to come by, Russo's New York Pizzeria restaurants provide locals with a taste of pizza's early American roots. According to the USDA, 13 percent of Americans eat pizza on any given day. So why not feed them something delicious? Visit nypizzeria.com/franchise to learn more about how to open your own Russo's New York Pizzeria.
No matter how you slice it, Anthony Russo is a success story. He developed one of the first New York-style pizzeria concepts in Houston. After perfecting his family's recipes for his own restaurants, he took the concept and started franchising it. That concept was Russo's New York Pizzeria.
Today, you can find Russo's New York Pizzeria all across Houston and in every major suburb: Katy, The Woodlands and League City, among others. Yet, it is no typical franchise. No matter which location it is, almost everything is made in-house, from the pizza dough to the gnocchi.
Russo is the story of a chef who made it: someone who was able to take a successful concept and package it in a way that, in the hands of the right people, can be replicated over and over again.
In part one of this Chef Chat, learn how he got his start, grew his business from one restaurant to four and then started franchising his concept to others. Come back for part two tomorrow, where Russo will talk about the food NY Pizzeria has to offer, how it's continued to grow and what else is on the horizon.
EOW: So, tell me how you became interested in cooking.
AR: My parents moved in 1978 from New Jersey to Galveston and I grew up in the restaurant business. They opened a place called Russo's Italian restaurant on Seawall. I was 12 years old at the time, so after school my homework was cooking in the kitchen. I followed in my dad's footsteps and we would cook with chefs from all over Italy. Mom is from Sicily and Dad is from Naples. So every summer, we would have chefs from Bologna, Naples and Sicily stay with us. They would work through the summer time, so that's how I learned how to cook all of this different Italian cuisine. It was fine dining.
When I was 17 or 18 years old, I attended college part-time and I opened my own business. I called it Russo's Pizza. That's how I started. It was 800 square feet. I had a pizza oven, a dough mixer and two tables. That's it. I could only sit eight people. That's how small it was. That was '85 or '86.
EOW: That was when you were in college? So you were attending college and running a restaurant at the same time?
AR: Yeah!
EOW: How did you find the time?
AR: I loved the business part of it. I had spent so much time in the kitchen. We made everything from scratch. We used to make our own homemade pastas, our own sauces, our own chicken stock, our lasagnas, our meatballs– they were all family recipes. We made it all in house. So, I wanted to take that and develop and expand. Dad was old-school Italian. He didn't want to expand the concept. "Stay here and you can take over the family business." But my dream was to open more restaurants.
EOW: What happened to your parents' restaurant?
AR: They retired. They stayed open for about 25 years. I went back and forth from Houston to New Jersey several times over the years and saw several pizzeria concepts. They had pizza by the slice and thin crust pizza. So, I developed a New York style pizza and opened a pizzeria in Clear Lake called Anthony's Pizzeria. This was in '88 or '89.
EOW: Why don't we talk just a bit about what makes New York style pizza unique?
AR: It's the ingredients that you use. It has to be high-quality and you need to know what kind of flour to use. I use high-gluten flour with the highest protein. It's milled in a certain part of Illinois. The flour, the cheese and the sauce is very important. It has to be a thin, crispy crust. You want to be able to get a slice of pizza and fold it so it stands up straight and doesn't flop on you. That's your typical New York style pizza.
EOW: The slices tend to be larger. Maybe that's because the crust is thinner?
AR: Thin crust, but our slices tend to be larger than even typical New York-style pizzas because I cut them off 28-inch party pizzas. My slices are 15 inches. They're huge– twice the size you would get New York!
EOW: So, back to your history: what did you do next?
AR: So, I ran the pizzeria in Clear Lake for four or five years. When my lease expired and moved it to Houston at 4315 Montrose. (Author's note: It was where Brasserie Max & Julie is now.) It was fine dining Italian. I had that for about five or six years. It was a great location. We used to make some great dishes. I brought back some of the family's old menu items like veal piccata, shrimp Parmesan, pasta di Mare–some really nice Italian entrées.
But then I went back to the Pizzeria. I opened up a third location, New York pizzeria in the Medical Center. That's where I brought in the New York-style pizzas again as well as calzone, stromboli and salads– The typical New York-flavored foods.
EOW: Now, what made you get out of fine dining?
AR: I saw a trend– casual. I wanted to open up multiple restaurants so it was less hands-on with the business. it was so you didn't have the huge overhead of hiring a full-service waitstaff and a dining room manager. I just wanted to keep it simple. I just wanted the kitchen manager, a cook, a pizza guy and a kitchen staff.
EOW: What happened to the place you had in the Montrose?
AR: My lease expired and I was focusing on a new pizzeria concept. So, I stayed with that model for many years. I started developing more upscale casual locations that were simple to operate. My whole goal was to franchise that opportunity– to take my family's recipes and package it to where I could franchise the concept. It took about eight or nine years to develop the franchise system.
EOW: At the point where you had the Medical Center location, describe how you grew from there.
AR: The medical center was my first pizzeria model and my second location was Beechnut. It was a little larger store, had more seating and the concept kept on working so I kept fine-tuning–the operational manuals, the recipes and the training program. Beechnut was very successful. From there, I opened 604 Polk St. downtown, which is still open today. That was 16 years ago. From Polk Street I went to 5727 Westheimer.
EOW: And these were still all your own locations?
AR: That's right.
EOW: And then you started franchising?
AR: Yes. That's when I sold the Beechnut location to a franchisee. When I started franchising, I sold my existing stores first. I sold Beechnut, I sold Polk Street and then I sold Holcombe. I kept the Westheimer store as my training store. That's where I trained franchisees.
EOW: That first franchisee– how did you qualify him? There's a lot of trust that goes into taking your baby– your concept that you've grown– handing it to someone and saying "Now you're going to do it." How did you arrange that in such a way that you felt comfortable?
AR: I wanted to make sure that the recipes were perfect. That, no matter who operates the restaurant, the food is going to taste the same like I would make it. Once I felt confident that part was taken care of, that's when I was ready to franchise. I wanted to make sure when I handed it off to someone that pizza was going to taste really like New York-style pizza.
The individuals had good chemistry. I liked the couple. They were husband and wife, entrepreneurial, business-minded and they had passion for it. They cared about their business. They were going to be on-site. It wasn't like, "I'm going to be an investor and I'm just going to operate the restaurant." They were hands-on.
EOW: People who actually wanted to be in the restaurant, be in the kitchen and really oversee things.
AR: Yes. Right. And I'd come in to train them and show them how to do it. I teach them how to cook and carry on the family recipe.
EOW: When you were first starting out, what were some of the first pizzas you developed?
AR: Oh wow. The first one was the margarita pizza. Then, the Heart-Healthy Veggie Pizza with artichoke hearts and fresh spinach. That was unique to put on the menu. Most places were doing a basic pepperoni pizza. I only had eight pizzas on the menu at the time. Today, I have a total of 35 or 36 choices.
EOW: What was the pizza landscape like in Houston at the time? Did people have anything to choose from other than Pizza Hut and Pizza Inn?
AR: That's it. No. In New York and New Jersey, there are pizzerias on almost every block. In Texas, you have a lot of Mexican restaurants on every corner. (laughs) The education part was kind of challenging for me because we make everything from scratch. We don't buy pizzas from a commissary. When I talk to people about franchising, they start comparing us to Papa John's or Domino's pizza like we're that kind concept, which we're not. We do everything in-house.
One of the things Tony Russo is most proud of is establishing a franchise operation that still manages to provide quality and consistency across all of their stores. That hasn't been an easy road. Russo started out as many restaurateurs do: in a tiny little eight-seat restaurant preparing his family's recipes as we learned in part one of our chef chat..
The difference between Russo and most restaurant owners, though, is that he developed his concepts and products into something that, with the right training and support, is repeatable by other restaurant owners.
The effort paid off. Russo's New York Pizzeria has gone international, with locations as far away as Dubai. In part 2 of our chef chat, we'll learn about Russo's strong preferences when it comes to Italian ingredients and how the company has evolved to provide a complete support system to franchisees.
EOW: So, Russo's makes its own dough in-house?
AR: We make our own dough in-house, the salad dressings, the pastas– all made in-house.
EOW: I noticed something else while I've been here. It's not just pizzas.
AR: Right. It's pastas, salads and sandwiches. At a typical pizzeria in New York they had a little bit of pasta, a little bit of pizza, calzones and salads. It's usually a very small menu And that's what I developed here. I call it the Little Italy experience. You get a slice of pizza, you get pastas, gnocchi, lasagnas–you have choices.
EOW: After your first franchisee, how did Russo's continue to grow and take off?
AR: I wanted to make sure they were very successful. To me, it's all about quality. They did really well at the Beechnut location and I used it as validation. When I got new people interested, I said, "Go talk to Thomas at Beechnut." That helped me build the concept. Investors would listen to the franchisees tell the story. Once they tasted the food, they were sold. They could see the quality.
My dad always said, "if it's not fresh, don't serve it," and he's right. If it's not fresh, don't serve it to your customers.
EOW: That's a good methodology. What about your ingredients? What's important to you?
AR: I source everything personally. It's very important. I don't rely on my distributor to tell me, "Use this cheese. Use this flour." I just stick to what I knew best growing up. I know what kind of flour and mozzarella to use. I negotiate directly with the manufacturer and then my distributor carries my product. We use fresh-packed tomatoes on our pizzas, which are hard to find. No additives; no preservatives. When you smell our tomatoes, you can smell the aroma because it's fresh. It's good quality stuff.
We use Prosciutto di Parma from Italy. There is domestic prosciutto, but I don't care for it. When we make a salad dressing with balsamic, I'm going to make sure it's been aged for at least 18 months and it's from Modena, Italy. If it's not from Modena, I don't want it! (laughs)
Parmesan has to be real Parmesan and if it's pecorino, it has to be Pecorino Romano. There's a domestic Pecorino, but it's not made with sheep's milk–it's made with cow's.
EOW: I notice you have desserts, too.
AR: We make our own tiramisu and cannoli. The cheesecakes are made in New York at a place called Rocco's Bakery in Little Italy and shipped here.
EOW: Have you ever been disappointed with any of your franchisees? Have you ever had to deal with one who wasn't doing it the way that you taught them?
AR: Yeah, at the beginning we had some issues with quality control. I was expanding and they were busy with their operations. Sometimes, they needed a little guidance. I was building my infrastructure and hiring more staff to assist with additional training. So, that was challenging. When you're building your franchise, you need to think about that, too– the support team.
Every one [of the franchisees] were very happy. When they start complaining about it is when they're not making money. Since they were busy making money, they understood it was a growing company. Most of those folks are still on board today.
EOW: What was your first out-of-state location?
AR: Germantown, Tennessee.
EOW: How long ago was that?
AR: Nine years ago.
EOW: How many locations, total, are there now?
AR: 41 locations open today. We have locations in Florida, Tennessee and Oklahoma. We recently opened up a location in Hawaii and we have four locations in Dubai and Abu Dhabi in the Middle East.
EOW: My goodness. You're international!
AR: International, that's right, and we have a total of 28 new restaurants opening over the next three years.
EOW: So, the pace of your expansion is going faster now.
AR: Yes. That's right. It is.
EOW: Why do you think that is?
AR: The economy is better today than it used to be a few years ago. The banks are now loaning money to businesses. Plus, a lot of people want to open up their own business. In recent years, there's been a lot of interest in owning your own restaurants.
EOW: The location we're sitting in now (20900 Katy Freeway in Katy, Texas)–how long has this been open?
AR: This one opened up eight years ago and was recently remodeled. When its anniversary came up in January, we decided to bring in the new Russo's look and colors.
EOW: You're just one man. I'm sure you're a very busy guy. How do you stay on top of all of these locations and make sure they're staying true to what you want them to be doing?
AR: We invest in our staff and we have great people working for us. We have great chefs now. I call them "chefs" because they've been cooking with me side-by-side for 10 years. There's a really great team at the Westheimer store. The menu and the recipes all get developed at Westheimer. We train for six to eight weeks at the Westheimer location. We have a staff for training, advertising, marketing– we have a whole department now that focuses only on supporting franchisees. That's how were growing our concept.
EOW: Since you source your own ingredients, I suppose that helps in keeping things consistent across all of the stores.
AR: Absolutely. I have spice pack mixes that I created. It's all Russo's recipes, so it's easy for the operator. Say they want to make meatballs. Here's Russo's meatball mix. They buy fresh ground beef and garlic and add the spice mix to it. Everything in the kitchen is simplified as far as making these recipes. As long as what you use is fresh, you're going to get a quality product at the end of the day.
EOW:You make your own pastas, too?
AR: Yeah, from scratch! We make our own gnocchi from scratch, we make cannelloni pasta and we make lasagna. These recipes go back to my grandparents' days In the 1960s.
EOW: How does it make your family feel to know some of their home recipes are being sold all over the world?
AR: They're very happy. They're very proud of the hard work that took place. It was not easy to put that together.
EOW: When you think is the most challenging part of being a franchisor?
AR: Trying to visit everybody is challenging. You do your best. I make a point of calling all of my franchisees at least once every two weeks. I either visit the store or keep communication open. For me, it's more like fun. I enjoy it. I don't even see it as a challenge. If I don't do it, I feel like I'm missing out. We're a partnership. It's a team. We work together to build a good base.
EOW: What do you think is the toughest thing is about being in the restaurant business?
AR: If you don't have the experience, and you're not buying a franchise, you have to start from scratch. That's difficult. You have no idea what's going to work for you. It's very challenging. You don't know what advertising is going to work and what food is going to sell and not sell.
The advantage of owning a franchise is it's proven. All of the mistakes happened years ago. It saves you money on cost of goods, promoting, advertising, overhead expense.
EOW: You've developed the entrepreneur's dream–a working concept that one can replicate. You've come up with the methodology, the formula, the recipes and the ingredients so anyone could replicate that success.
AR: That's right. Fifty percent of the success is already there. The other 50 percent is you managing, so your responsibility is mostly customer service, making sure the cooks are making the food right and making sure the food is presented right. It's a lot easier when you're running a franchise instead of starting from scratch.
When I opened my first store, I had ups and downs, too. That's what's going to happen when you have your own restaurant. It's hard.
EOW: What was the most challenging recipe you ever developed?
AR: Osso bucco. Veal shank. When we make it at home, that's different than making it in a restaurant, but I figured out how we could do it in a restaurant. We run it as a special. I braise the veal and marinated it in red wine with celery, carrots and fresh bay leaves for about 24 hours. Then, I sear it and make it with a sauce. It's about a six-hour process. It's a beautiful dish when it's done. It's tender and excellent. That's one of my favorite things to make.
EOW: What else would you like people to know about you or your restaurants?
AR: At Russo's, it's fresh. We use healthy, fresh ingredients. We cook everything with extra virgin olive oil, even when we sauté. There's no trans fat. The menu is broad and you have good choices. I can get a slice of pizza if I want or I can get a whole pizza to share with the family or I can have an Italian experience with the pasta selections. You can have a dine-in experience if you want or we have free delivery for the entire menu.
Every Wednesday, we have half-price wines at all locations. We have a great appetizer menu, too. We have prosciutto. arancini, fried calamari–really good appetizers. You can eat light.
An important part of any franchise system is its reliable franchisees. After all, they're not just buying a piece of a company – they're buying their future. At Russo's, we have several multi-unit owners who have risen to great heights using Russo's proven system.
Celebrating his third opening, multi-unit franchisee Guillermo Medellin has just opened a Russo's New York Pizzeria in Spring, Texas, just outside of The Woodlands. Armed with 3,200 square feet, a patio with outdoor seating and a dedicated craft beer and wine bar, Guillermo's newest restaurant will be a welcome addition to the growing Spring community's dining options.
Guillermo purchased his first Russo's New York Pizzeria in The Woodlands in 2009. In 2014, Guillermo and his team opened a second location in Conroe, just north of The Woodlands.
"Working with the Russo's franchising team has made my dreams of becoming a business owner a reality. Every step of the way has been strategic, from location scouting to marketing and outreach," said Guillermo, whose newest Spring location is ideally situated at the corner of Kuykendahl Road and West Rayford in the Kroger Marketplace. "It's easy for me to visualize success when I have a proven franchise system to follow and the full support of the home office behind me."
The Spring location, which opened Jan. 19, has already experienced a very positive reception from the community. Already impressed with the delicious and authentic food and hand-selected craft beer and wine menu, the newest addition to the Russo's family is on a great trajectory for success.
With more than 30 years of experience in restaurant management and ownership, Russo's Restaurants has perfected the classic Italian dining experience, and the brand is making it easier than ever to get started on this exciting journey. For franchise information, please contact Russo's at nypizzeria.com/franchise.
As a prominent proponent of fresh, light Italian dishes made with ingredients totally devoid of preservatives, Russo's was delighted to provide healthier dining options for lunch, dinner and brunch during National Nutrition Month (March) – and beyond.
Known far and wide for its delicious gluten-free pizzas available both fresh in the 35-plus worldwide restaurants and frozen in 2,000 U.S. grocery stores, Russo's dedication to making Italian classics as light and comforting as possible was clear during Chef Anthony Russo's most recent TV segment in Houston.
Chef Anthony visited the KHOU set to show off a heart-healthy pasta dish made with broccolini, tomatoes and plenty of garlic. A great example of some of the healthier-for-you menu items Russo's makes fresh daily, the pasta was a huge hit with the host and crew. You can watch the segment here.
With delicious, fresh options that are easy on the waistline like eight diverse, delicious salads, thin-crust pizza made with all-natural toppings and gluten-free pizza, pasta and calzones, Russo's is the clear choice when making smart dining decisions for the whole family.
Beloved in communities nationwide and around the world, the Russo's name is synonymous with quality and freshness. With more than 30 years of experience in restaurant management and ownership, Russo's Restaurants has perfected the classic Italian dining experience, and the brand is making it easier than ever to get started on this exciting journey. For franchise information, please contact Russo's at nypizzeria.com/franchise.
Russo's New York Pizzeria recently celebrated the highly anticipated reopening of its newly redesigned restaurant located on Polk Street in downtown Houston. One of Russo's post popular locations for Houstonians and visitors alike to experience authentic, fresh, scratch-made Italian food that the whole family can enjoy, the Polk Street restaurant's interior has been completely transformed.
Russo's on Polk Street comes with new features like the "open kitchen," aesthetically pleasing décor, digital menus and a high-tech, self-service Coca-Cola machine. "The Polk Street Russo's New York Pizzeria is setting the standard for many of our new Russo's locations domestically and internationally," commented Steve Hubbard, Chef Russo's newly appointed Director of Operations. "In addition, lunch guests from neighboring office buildings can enjoy the brand new, create-your-own pizza and pasta stations, which prominently feature lunchtime portions of Russo's most popular pizza and pasta dishes with a side salad included. Our open kitchen format has created a lot of buzz with our downtown customers and the word is spreading fast about our great menu and renewed service commitment."

Houston's news and media is excited about the new Russo's, as well – in fact, the redesign was featured in Houstonia Magazine's "Gastronaut Extreme Eats" page , the Houston Chronicle , Eater Houston and the Houston Press.
"Each of our customers who walk in will be delighted with the warm, yet trendy setting and are in for a real treat with the newly redesigned Polk Street location. They're going to be in customization heaven with Coke's high-tech Freestyle machine, as well as the opportunity to create their own pizza and pasta," said Chef Anthony Russo, Founder and CEO. "It's incredibly important for all of our valued guests to feel the authentic ambiance at Russo's – with a giant slice of our authentic New York style pizza and a nice glass of wine in hand, of course!"
The newly redesigned Russo's New York Pizzeria is located at 604 Polk Street in downtown Houston at the corner of Polk & Smith Streets, just 2 blocks inside I-45. If you're interested in taking the entrepreneurial leap as a single or multi-unit franchisee by opening your very own Russo's franchise, click here for more information or call Jim Carr, director of franchise development, at 832-980-6407.
August has been an exciting month for Russo's – we welcomed a new Russo's Coal-Fired Italian Kitchen at the beginning of the month at San Antonio's premium mixed-use residential and shopping destination, The Rim.
Russo's Coal-Fired Italian Kitchen at The Rim is open for lunch and dinner with catering options available. The sleek, modern and inviting restaurant features an open kitchen where guests can see their food being prepared and dishes coming out of the massive coal-fired oven.
"From the moment customers walk in, they will know they've come somewhere special. They're getting a truly authentic experience," said Paula Matthews, general manager of Russo's Coal-Fired Italian Kitchen in San Antonio. "Everything is made with fresh ingredients. From our crispy coal-fired pizza and calzones to our baked pastas, handmade meatballs and specialty seafood pastas, we serve traditional Italian dishes just the way our guests expect."
The unique, open design, which reflects the local flair, also includes a bar with an impressive selection of local and imported Italian wines and local craft brews from Pearl Brewing Company and Lone Star Brewery as well as others. Guests love to soak up the last days of summer on the 1,000-square-foot patio with an authentic Italian meal and a glass of wine.
The customer feedback has been incredible – check out a local blogger's first experience at Russo's Coal-Fired Italian Kitchen here.
Stop by and see us, or visit us here to discover more about the Russo's Coal-Fired Italian Kitchen franchise opportunity!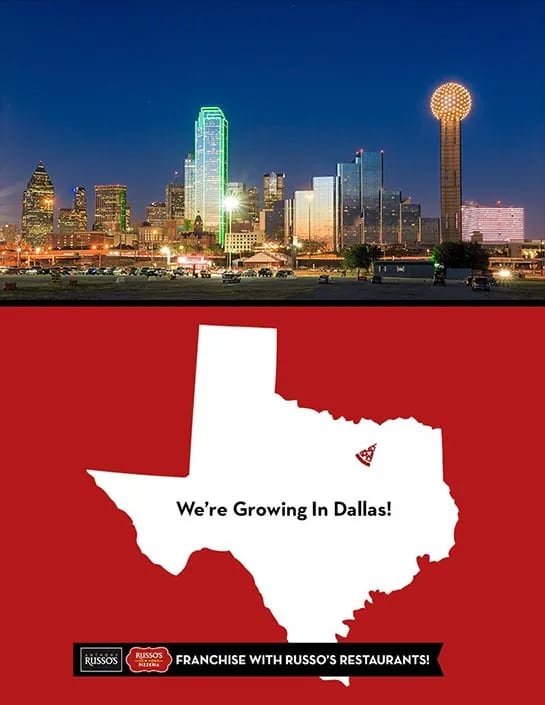 Opening a new restaurant can be a daunting task – coordinating labor, real estate, vendors and marketing is enough to have any ambitious individual looking into business ownership second-guessing his or her decision.
When you couple the sheer amount of work with the fact that many restaurants are unsuccessful in their first few years in business, it seems downright nonsensical to try and open a restaurant without any help. That's where Russo's comes in.
With Chef Anthony Russo's proven concepts such as Russo's New York Pizzeria or Russo's Coal-Fired Italian Kitchen, entrepreneurially minded individuals who dream of opening their own restaurant can see their dreams come to fruition without the fear of the doors closing unexpectedly. Russo's does the legwork for you – besides assisting with labor, real estate, vendor relations, marketing and public relations, Russo's also identifies prime markets nationwide for you to open your Russo's restaurant.
In fact, Russo's has identified the Dallas/Fort Worth area as healthy for small business growth – and they're not the only ones. Several small business job reports have placed the Dallas/Fort Worth area as the leader for the year of 2015 in small business growth, ranking well above larger metropolitan areas such as New York, San Francisco, Chicago and Los Angeles. The D/FW area has seen a growth rate of .25% for more than 12 months – the state of Texas as a whole ranks third nationwide as a best performing state for small business growth. Though the national index growth rates have varied, Dallas remains strong and positive, indicating that it is an ideal setting for a greater Russo's brand penetration.
Russo's New York Pizzeria and Russo's Coal-Fired Italian Kitchen provide opportunities for qualified entrepreneurs to develop community-oriented restaurants in new and upcoming, as well as existing, lifestyle centers, retail centers or standalone locations. Chef-driven Italian menu items complement the fast-casual and casual dining, family-friendly atmosphere in more than sixty locations open or under development, worldwide. Click here to learn more about available franchising opportunities with Chef Russo's brands.